Having followed Hungary's Bohém Ragtime Jazz Band for some months and featured them regularly on Jazz&Jazz, when I discovered that Botany Bay Jazz Club had booked them for a Friday Night Special on 6th May, I seized the opportunity to see them live – and, with bandleader Tamás Ittzés' and the Bay's permission, to film them.
It was an evening of outstanding jazz. The Club was packed with their own members and guests from The Amersham Jazz Club who had made the journey to share the experience.
So here is my selection of Jazz&Jazz YouTubes which tell their own story. Enjoy!
For news about Bohém Events and Festivals visit:
Bohém Ragtime Jazz Band Website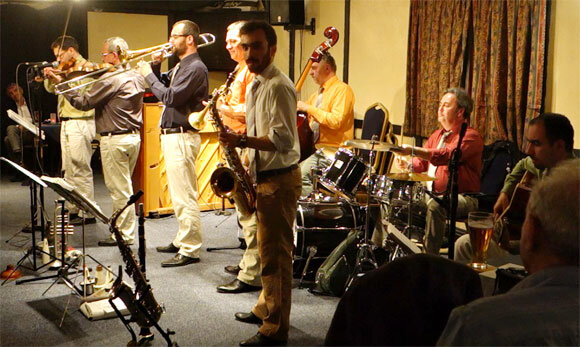 Thank you, Tamás and Bohem, for stopping by The Bay Jazz Club during your 2016 UK Tour.
Peter M Butler
Editor & Proprietor Jazz&Jazz
(YouTubes © Peter M Butler, Jazz&Jazz)
Please follow and like us: