Some months ago I was criticised for focusing on jazz clubs in just the Bedfordshire,  Buckinghamshire and Northamptonshire Triangle. Followers of this site will know that this is far from the truth – the reach of Jazz&Jazz is world wide.
I admit that several clubs in Beds, Bucks and Northants do feature prominently. Not because I favour them above others, but because they are within striking distance for my regular journeys to follow and feature visiting bands and musicians from all over the UK and overseas – and in turn the clubs which book them.
I'll take this a stage further. Some pundits are critical that I favour certain jazz promoters. OK – if I do it's because they realise the benefits of featuring their gigs on Jazz&Jazz.
Where is this leading? In fact to a plug for one jazz promoter – inspired by Richard Exall's recent appreciative thoughts about his massive contribution to jazz – who is representative of the sometimes sole destroying work of jazz promoters and jazz clubs in general.
Tad Newton & His JazzFriends
"I've been in Northamptonshire for over 10 years, and during that time I've been lucky enough to have worked with Tad Newton and his splendid band "The Jazz Friends" on quite a few occasions. Tad himself is an important figure in the East Midlands for his endless work promoting jazz venues and bands. He has given opportunities to musicians from across the country to come and perform here in Northamptonshire, and opportunities for people here to listen to some of the best jazz this country has to offer. Plus showcasing new talent. 
"It is often a thankless task dealing with ungrateful musicians and seemingly unreliable audiences. Jazz promoters often subsidise the events in order to keep venues afloat, and have to strike a balance in programming that will never suit everybody. But without this kind of work, live jazz would be dead in this country."
Richard went on to throw a light on the musicians themselves: 
"Jazz musicians are a hardy bunch, but not very adept at generating work or liaising with the public and are easily disillusioned. We like to wallow in our misfortune of having an artistic talent and temperament which separates us from the every-day-man. It is both a gift and a curse. To be able to make an existence playing music and not being able to rid ourselves of it's fatal allure and demanding nature. Instead we often rely on people like Tad Newton who are able to provide that much needed conduit to the public.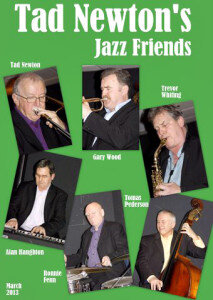 "Unfortunately, Tad is unique. If every town had a Tad, we musicians would all be rich! (well… richer, at least!) So we all have a lot to thank Mr Newton for. And not only that. He's also a jolly nice fellow.
 "Thank you Tad,  for all your hard work."
Richard Exall
Thank you, Richard. That just about sums it up in a way which many other promoters would endorse but to round things off here is a YouTube of Richard Exalls' Shooting Stars during their recent gig at Tad's Walnut Tree Jazz Club, Blisworth.
 Tad's Venues and Events
The Walnut Tree Jazz Club, Blisworth: Lunchtime Jazz every Sunday from October until April plus Summer Specials such as Jazz On A Summers Day and Wine & Dine Jazz Evenings.
The Castle, Wellingborough:
Monthly Jazz on Thursday evenings.
An Annual St Valentines Weekend Special.
The Bedford Golf Club: Bi-monthly Jazz, usually the last Thursday in the month.
Plus The JazzFriends at The Spice of Life this coming October:
The JazzFriends have an enviable record of stability. Tomas Pedersen has been with The JazzFriends for 21 years, Gary Wood coming up to 16 years, Trevor Whiting for 8 years, Ronnie Fenn for 7 years and Alan Haughton coming up to 5 years. And Tad? Birthday Celebrations are due for his 70th!
 Visit http://www.tadnewtonsjazzfriends.com for further news about the band and a plethora of positive feedback and keep watching Jazz&Jazz for news and updates on The JazzFriends and all of Tad's promotions and events.
Peter M Butler
Editor & Proprietor Jazz&Jazz
(YouTube © Peter M Butler, Jazz&Jazz)
Please follow and like us: