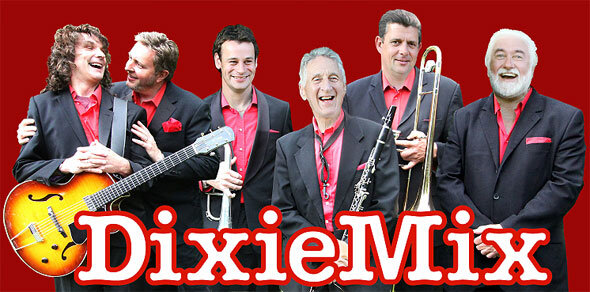 DixieMix Jazz Band, led cornetist Simon Nelson, is one of the UK's most engaging and hard working jazz ensembles.
Fans will recall DixieMix's recent highly successful UK tour with Rod Stewart which brought them national recognition with TV appearances plus festival and theatre gigs.
With the best jazz musicians in East Anglia, an enthusiasm for traditional jazz, the band provides outstanding entertainment and top quality performances for all occasions.
Featuring
Simon Nelson – cornet, trumpet, flugel horn and vocals
Chris Wigley – trombone and vocals
Peter Oxborough – clarinet, alto sax, tenor sax
Kevin West – banjo, guitar, ukulele
John Benson – bass and vocals
Tony Wilkins – drums and vocals
Jazz&Jazz YouTubes
The following Jazz&Jazz YouTubes were filmed at DixieMix's show stopping gig during Tad Newton's highly successful St Valentine's Jazz Weekend at The Castle Theatre, Wellingborough. So brilliant was it, I would have filmed the entire show, but I'm a jazz fan and I was there to enjoy the live performance as much as to take movies! Great to meet you at last, Simon!
Peter M Butler
Editor & Proprietor Jazz&Jazz
(YouTubes © Peter M Butler, Jazz&Jazz)
Please follow and like us: