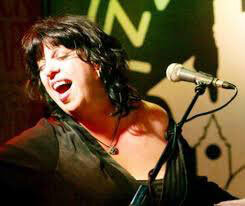 Award-winning Liane Carroll comes to Loughton on 12 March
The British Jazz Award-winning pianist and vocalist Liane Carroll plays an afternoon concert in Loughton, Essex on Saturday 12 March, with Roger Carey on bass and Pete Cater on drums.
This concert is one of a series during 2016 to raise funds to support the work of the Loughton-based National Jazz Archive.
Liane's latest CD release 'Seaside' has recently been recognised as the best British album in the 2015 British Jazz Awards and Liane will be featuring tracks from the album during the afternoon.
Liane, a Patron of the Archive, said: "The National Jazz Archive does great work in preserving the history of our music. It's a pleasure to perform on their behalf to help raise funds to support this work."
Pete Cater, who is a trustee of the National Jazz Archive, has recently been voted one of the top eight jazz drummers in the world by Rhythm magazine.
The venue for the concert is Loughton Methodist Church, 260 High Road, Loughton, Essex IG10 1RB, close to the Archive's home in Loughton Library, where there is extensive parking, 1 km from Loughton Station on the Central Line, and served by numerous bus routes.
The concert starts at 2.30pm and tickets cost £15.
For details and to book tickets, visit: www.nationaljazzarchive.org.uk/events
email: events@nationaljazzarchive.org.uk
Tel: 020 8502 4701.
For media enquiries contact: Nick Clarke 020 8502 4701
enquiries@nationaljazzarchive.org.uk
Mike Rose  07870730745
michael.rose110@ntlworld.com
The National Jazz Archive
Loughton Library
Traps Hill
Loughton
Essex IG10 1HD
Please follow and like us: