Pete Lay recently posted in Fred Burnett's JazzNorthWest News Update this immensely sad news:
"It is with regret that I have to tell you the sad news about the passing of our good friend and jazzer Jim Pack (Jimbo). He passed away at around 4.00am this morning (December 16th).
Here's to Jimbo."
Jimbo's Funeral
 Jim's funeral will be at the Beckenham Crematorium, Elmers End Road, BR3 4TD
at 3.45pm on Thursday, January 21st 2016.
I have much to thank Jimbo for. He regularly lead the Umbrella Parade at the Hemsby Autumn Jazz Parade and back in 2008, shortly after I had rediscovered my jazz roots, I so much admired his energy and flamboyance, that he inspired one of my first jazz paintings.
So in his honour I simply had to feature the painting again here, along with the poem his jaunty style inspired. Jimbo wrote the most wonderful letter of thanks to me when I presented him with a Giclée Print of the painting and poem. Regrettably after our recent house move I haven't yet been able to lay my hands on it.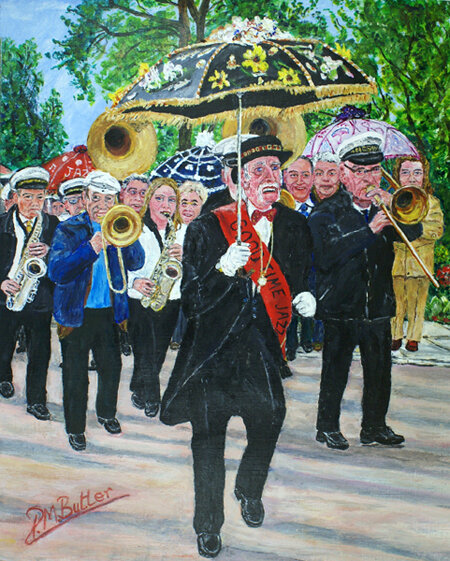 Good Time Jazz
Skipping to the rhythm
Dapper and trim
Grand Marshall Jimbo
Leads the parade
Dazzling with gusto.
New Orleans Jazz
And brollies on show.
Braced against a cool October breeze, sprightly Grand Marshal Jimbo leads the Umbrella Parade
at the Ken Colyer Trust 2008 Jazz Festival in Hemsby, Norfolk,
where Good Time Jazz was enjoyed by one and all. 
When I launched jazzandjazz.com, Jimbo's portrait and poem simply had to be one of the first posts back in February, 2012
Peter M Butler
Editor & Proprietor Jazz&Jazz
'Art & Verse' Copyright © 2009 Peter M Butler. All rights reserved
Please follow and like us: