Something special happened at Ramsgate Seaside Shuffles' Christmas Gig on
27th December. The South Coast Club in Kent took a collection for victims of the
floods in the north of England, Wales and Scotland.
Martin Bennett's Old Green River Band were starring at Seaside Shuffle on the night and Martin suggested Carlisle Jazz Club (℅ Carlisle Rugby Football Club), should be the beneficiaries as many of their members are victims of the flooding and in serious need of help. The collection bucket did the rest and Martin was entrusted with the cheque for Carlisle Jazz Club.
On 29th December Martin messaged: "Chris knows the cheque is going to Carlisle RFC. I have posted the cheque she gave me, already made out to Carlisle RFC for £125, to the jazz contact, who is going to pass it on. The flood level in Carlisle is such that there are no mail deliveries to the worst affected places and Carlisle RFC is under deep water. So much so, that the club house, playing field and carpark are totally inaccessible. I will be in contact with Chris once I hear from the committee. A letter of thanks will be coming Ramsgate Seaside Shuffle's way once matters are sorted to some extent. There is a weekly jazz event on Thursdays so the interruption is massive. The Club is trying to find a semi-permanent location for its concerts until all the damage has been repaired and the RFC is once again useable."

David Bateman reported just today in Jazznorthwest:
"The Wagon and Horses in Lancaster was one of the victims of the flooding in December and is now likely to be out of action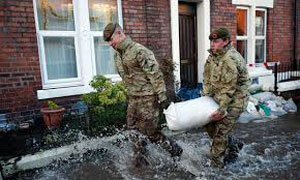 for a while. This means that the January 7th gig for the New Riverside Jazz Band has had to be cancelled. The people at The Wagon have been great supporters of live jazz, and, when it eventually does re-open, it will be good to see as many jazz fans as possible supporting the regular first Thursday gigs."
How about it, UK Jazz Clubs? Why not follow Ramsgate Seaside Shuffle's generous example? Similar collections could be made for other Jazz Club flood victims in inundated areas.
I'll post this on my Social Media Links to get the message across.
Peter M Butler
Editor & Proprietor Jazz&Jazz
Ramsgate Seaside Shuffle's Christmas Special with Martin Bennett's Old Green River Band
Please follow and like us: