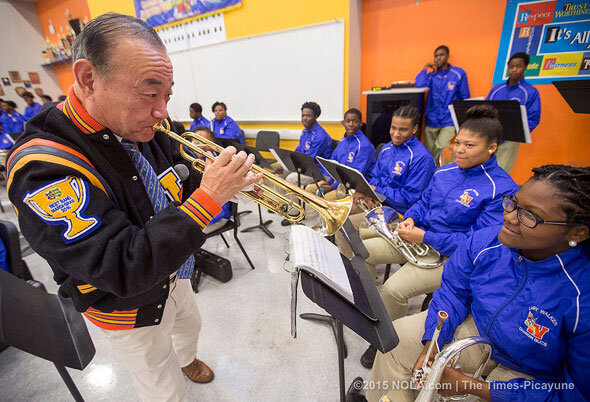 "Every year when Yoshio and Keiko Toyama visit New Orleans to perform at Satchmo Summerfest, they arrive with Yoshio's traditional jazz band, several members of their foundation, and gifts. This year was no different. As I waited for the presentation to begin in the band room at Landry-Walker High School, I checked out the horns and the banjo
on the table.
"Each one had the same message: 'This instrument is donated by Wonderful World Jazz Foundation, Tokyo, Japan. A present to the children of New Orleans from jazz fans in Japan. To express our thanks for jazz, which New Orleans, Satchmo and your country have given us.' That pretty much sums up what the Toyamas are all about."
Extract courtesy of Sheila Stroup: Link to Times-Picayune Article, August 8th, 2015.
"Japan's Yoshio Toyama is much more than a Louis Armstrong impersonator – although he is skilled in that regard. His depth of knowledge, technical ability and obvious love for the music, and the city that initially inspired it, enables him to transcend mere mimicry to deliver lively, spry and joyous sets. He's become a favourite every year at Satchmo Summerfest."
Celebrating Satchmo's Birthday in New York City
                                                                                                                                                                  Here is a selection of YouTubes of Yoshio playing with Vince Giordano & the Nighthawks, in New York's Iguana Restaurant and Dance Lounge on 4th August, Louis Armstrong's Birthday.
My thanks to Yoshio and Keiko for the privilege of featuring their August Satchmo visits to New Orleans and New York on Jazz&Jazz.
Peter M Butler
Editor & Proprietor Jazz&Jazz
Please follow and like us: