JBGB Events presents leading UK musicians recapturing the music of George Shearing, Duke Ellington, Fats Waller, Jelly Roll Morton, Louis Armstrong … names for jazz fans to conjure with … along with tales, stories and anecdotes from their lives in a series of concerts at St James Studio, 12 Palace Street, Westminster, London, SW1E 5JA.
8.00 pm Thursday 15th October
The wonderful music of George Shearing featuring Simon Brown
A no-hope congenitally blind boy from Battersea grew to become a US Grammy Award winning jazz great pianist. Shearing performed at Carnegie Hall and for three presidents at The White House, with his unique style of Glenn Miller swing, bop and modern classics. His many albums and singles include hits such as "Lullaby Of Birdland", "Pick Yourself Up" and "September In The Rain". In 2006 George Shearing was knighted by The Queen. Sir George simply said "I don't know why I'm getting this honour… I've just been doing what I love to do. My mind keeps flashing back on my beginnings as pianist playing in a pub for the equivalent of $5.00 a week. What a journey from pub to Palace. Receiving such an honour might also show young people what can be achieved in life if you learn your craft and follow your dreams."
Flash Back to George Sheering: "One Morning in May"
Simon Brown, on piano, returns to St. James, following his exciting presentation in our 2014 series of The Wonderful Music of Herbie Hancock. In this current 2015 series his quintet, presenting those unique Shearing voicings, showcases the sparkling and youthful talent of Lewis Wright – vibraphone (fresh from his appearance with Wynton Marsalis at The Barbican), alongside Simon Hurley – guitar, Dave Olney – double bass and George Double – drums.
Tickets £19 & £23
To book either call 0844 264 2140 or go online to www.stjamestheatre.co.uk

(Round the corner from Victoria Station & Buckingham Palace. Arrive early and dine in the Carrara restaurant at the St. James Theatre. Stay late after the show relaxing in the bustling café bar).
8.00 pm Thursday 29th October
The wonderful music of Duke Ellington featuring Alan Barnes
"Duke" Ellington is arguably the greatest composer, pianist and bandleader of jazz orchestras. His career from 1923 spanned over 50 years. Ellington was based in New York City from the mid-1920s onward, and gained a national profile through his orchestra's appearances at the Cotton Club in Harlem. Members of Ellington's orchestra, such as Johnny Hodges and Cootie Williams are jazz greats in their own right and his collaborations with composer-arranger-pianist Billy Strayhorn, created long lasting jazz themes including "Perdido", "It Don't Mean A Thing" and "Take The "A" Train". Ellington composed incessantly to the very last days of his life. Music was indeed his total life and his commitment to it was in comparable and unalterable. In jazz he was a giant among giants.
UK award-winning jazz great, Alan Barnes on saxophones, leads an all stars UK line up to play the wonderful music of Duke Ellington at St. James, featuring Bruce Adams – trumpet, Robin Aspland – piano, Simon Thorpe -double bass and Bobby Worth – drums.
"Alan infuses his playing with so much passion and energy you could believe it was minted on the spot" (John Walters. The Guardian).
Tickets £19 & £23
Call 0844 264 2140 or online at www.stjamestheatre.co.uk
8.00 pm Thursday 12th November 
Fats Waller & Jelly Roll Morton featuring Keith Nichols
Thomas "Fats" Waller was the prize pupil, and later colleague, of the great stride pianist James P. Johnson. He grew to become an influential American jazz pianist, organist, composer, singer, and comedic entertainer, whose innovations to the Harlem stride style laid the groundwork for modern jazz piano with compositions "Ain't Misbehavin'",
"I Can't Give You Anything But Love"
and "Honeysuckle Rose".
Jelly Roll Morton, was a New Orleans American ragtime and early jazz pianist, bandleader and composer. Widely recognised as a pivotal figure in early jazz, Morton was jazz's first "arranger", proving music rooted in improvisation could retain its essential spirit and characteristics when notated. His compositions, including "Jelly Roll Blues", "King Porter Stomp" and "Black Bottom Stomp" are must-plays in the piano repertoire.
Following his sell-out concert at St. James in 2014, playing the music of Scott Joplin and the Ragtime Masters, Keith Nichols, one of the foremost and in demand pianists specialising in older piano styles, returns for this concert. Keith is joined for The Wonderful Music of Fats Waller and Jelly Roll Morton, by Trevor Whiting – clarinet and Martin Wheatley – acoustic guitar and banjo.
"I've heard a lot of pianists, but Keith Nichols plays the nearest to my father"
(Fats Waller's son Maurice)
Tickets £19 & £23
To book either call 0844 264 2140 or go online to
www.stjamestheatre.co.uk
8.00pm Thursday 21st November
The Wonderful Music of Louis Armstrong featuring Simon Nelson's DixieMix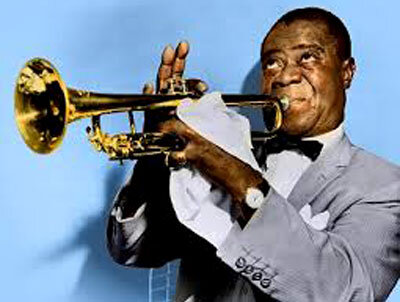 Louis Armstrong, nicknamed "Satchmo", came to prominence in the 1920s, influencing countless musicians with both his daring trumpet style and unique vocals In the 1920's Armstrong's charismatic stage presence impressed not only the jazz world but also
popular music.
Armstrong made more than 60 records with the Hot Five and, later, the Hot Seven. Today, these are generally regarded as the most important and influential recordings in jazz history; on these records, Armstrong's virtuoso brilliance which he developed further with the All Stars – 1946-1956, helped transform jazz from an ensemble music to a soloist's art.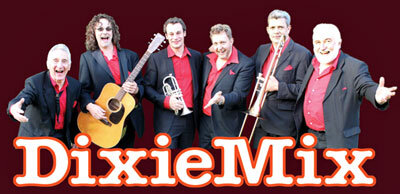 Simon Nelson and his DixieMix band, fresh from their UK tour as support band for Rod Stewart, make their debut at St. James playing the wonderful music of Louis Armstrong along with their own improvisations and creative sensitivities.
Simon Nelson – trumpet, Pete Oxborough – clarinet, Chris Wigley – trombone, Kevin West – banjo, John Benson bass and Tony Wilkins – drums
"Wonderful foot tapping entertainment from a superb band!" (The Hoste of Jazz)
Tickets £19 & £23
To book either call 0844 264 2140 or go online to
www.stjamestheatre.co.uk

MUSICIANS LOVE ST. JAMES
"St. James Studio is a fine new jazz venue for London." Keith Nichols
"St. James Studio is an ideal space for performer and audience alike for an
intimate evening of jazz. A real joy" Simon Brown
"What a terrific venue! Excellent sound, great piano, excellent sound man, helpful staff. I have played at St. James Studio several times over the last couple of years and thoroughly enjoyed it. A professionally run and deservedly successful venue – a very welcome addition to the London jazz scene." Mark Crooks
AUDIENCES LOVE ST. JAMES
and "The Wonderful Music of  The Jazz Greats" Series
"I think the venue is the best in London for a jazz 'club'. Small, intimate and with a feeling of New York. Almost as if at any time Woody Allen may drop in on his way back from the editing suite"
"Brilliant evening. Great time had by all."
"Fantastic night"
"Wonderful atmosphere"
"The musicians were awesome"
"One of the best nights out we've had in ages"
"Thanks for a fantastic evening"
"The venue is ideal"
Please follow and like us: