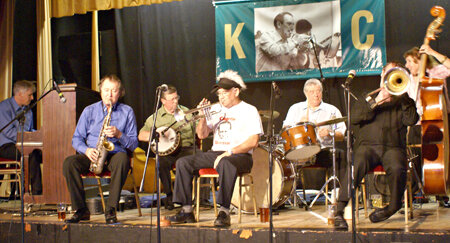 Celebrating the Ken Colyer Heritage
I always take pleasure in featuring The Autumn Jazz Parade at Hemsby. It was the first festival I went to back in 2008 after a long absence from jazz (the picture above was one of my early photos for Jazz&Jazz). Plus, in 2009 my wife won the Trust's Star Draw first prize – a brilliant Southern Sounds trip for two to New Orleans in 2010 for the French Quarter Festival. Whilst there I met and have stayed in touch with a number of New Orleans' greatest musicians.
That got me right back into jazz and I launched Jazz&Jazz in an endeavour to give something back. Plus I launched my Jazz&Jazz YouTube Channel which features bands and musicians from around the world with over 150 subscribers and close on to 100,000 views. Below are YouTubes from last year's Autumn Parade.
My special thanks also go to Festival Organiser Pete Lay who has been consistent in his support for Jazz&Jazz.
Still Time to Book – Just!
So this is a special last minute plug for all you "Johnny Come Latelys". Book now for this year's festival to enjoy hot bands including bill toppers Denmark's "Doc Houlind's New Orleans Jazzmen"
Other bands include the Festival New Orleans All Stars, The Golden Eagle Jazz Band, The Gambit Jazzmen, John Shillito Band, Dave Rae's Levee Ramblers, plus Andrew Hall's Memories of New Orleans.
Special guests will feature Mike Pointon (MC and trombone), Ray Smith (piano) and Parade fans' all time favourite banjoist, Eric Webster.
There will of course be the indispensable Brolly Parades, Jam Sessions and the fully stocked bar.
Seacroft Holiday Village, Beach Road, Hemsby, Norfolk, NR29 4HR
Price per person:
Standard Room £189
Standard Plus £199
Min 2 Premier Single Supplement £5 p.p. per night.
Bookings: 01493 809938
Seacroft Holiday Village – 01493 733610
Contact Pete Lay for any other information: 01737 822726
Three of my Jazz&Jazz YouTubes from Autumn Jazz Parade, 2014
Plus one more I just couldn't resist. Golden Eagle Jazz Band at Ramsgate Seaside Shuffle. Listen out for the canine accompaniment. Thanks go to Pete Lay for helping launch Ramsgate Seaside Shuffle back in 2011 and for his continued support.
Peter M Butler
Editor & Proprietor Jazz&Jazz
(Photos & YouTubes © Peter M Butler, Jazz&Jazz)
Please follow and like us: