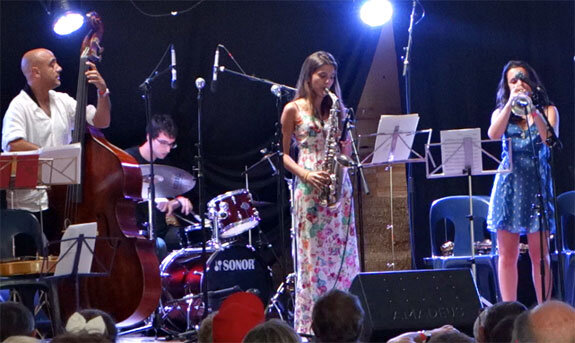 I pined for Fest Jazz at Chateauneuf du Faou, Brittany, this year. Trevor Stent kindly kept the doors open until the last moment but circumstances prevented Ginny and I
making the journey.
So I have delved into my MP4s to search for footage which would cheer me up and discovered movies of Eva, Joan and Andrea not yet uploaded for YouTube.
I hadn't uploaded Andrea performing "Butterfly" until now because filming was cut short due to jostling fans just as she was about to play her trumpet solo. But it's still magical so I didn't want to leave it out. And she plays trumpet in "I Remember Clifford"!
Trevor has sent me photos of this year's equally successful festival which I will post on Jazz&Jazz. Any YouTubes to come of the bands this year, Trevor?
Peter M Butler
Editor & Proprietor Jazz&Jazz
(YouTubes © Peter M Butler, Jazz&Jazz)
Please follow and like us: