Back in June Trevor Stent emailed me: "June 21st in France is the annual "Fête de la Musique" when all across the country, from the smallest village to the biggest city, local councils organise groups of all types and styles to play in the streets, in the squares, in the bars and the restaurants. Amateurs alongside professionals, schoolchildren next to seasoned musicians, jazz next to rock, classical, folk etc etc.  
"It's one enormous party which goes on well into the night. My band, Good Time Jazz, played in Pleyben, a small town in Brittany before returning to Châteauneuf-du-Faou to join in the local celebrations and groups playing in the main square.
An apt precursor to Fest Jazz in Châteauneuf-du-Faou, Trevor!
I regret being unable to be there this year due to personal circumstances but I so much appreciate that you have chosen Jazz&Jazz to feature yet another glorious 24th to 26th July festival weekend.
Trevor concluded his email to me: "Fête de la Musique is such an obvious and successful idea. Why doesn't it happen in the UK? If only we could get the UK press on board – to overlook their prejudices against jazz and occasionally take on board the positives of our European neighbours!"
Thank you Trevor, for the photographs and YouTubes of Fest Jazz 2015.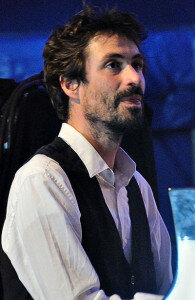 Above: Young Breton trumpet star, Malo Mazurié, leads the Hot Sugar Band with the aid of Attila Korb, trombonist from the Bohem Ragtime Jazz Band.
Left: Jean Philippe Scali Pianist Hot Sugar Band
The pre-festival party on the Thursday evening with Le Bardi Manchot a fine young band from Toulouse:
Super mainstream jazz from the Olivier Leveau Quartet with sax star David Sauzay…..
Last but not least Shake Rattle and Roll with Davell Crawford!
Peter M Butler
Editor & Proprietor Jazz&Jazz
YouTubes and Photos Courtesy of  Trevor Stent, Fest Jazz, 2015
Please follow and like us: