UPDATE ON THE WEAVE'S SPICE OF LIFE GIG
Unfortunately The Weave's launch gig at "The Spice of Life", Soho, London, on the 9th July was sabotaged by the London Tube Strike and only the bravest fans made the hazardous journey  – see the comment from my friend Paul Goddard below. But Paul sent me two photos he took at the launch and I am only two pleased to reproduce them here to add just a little more publicity for this great band.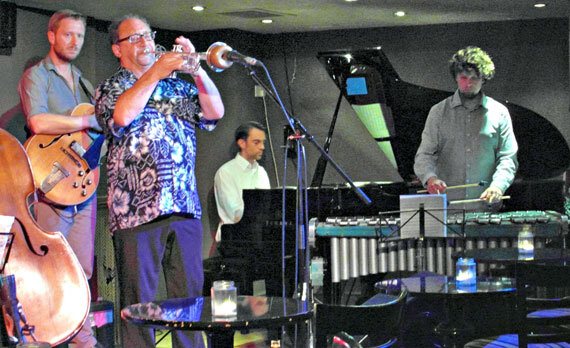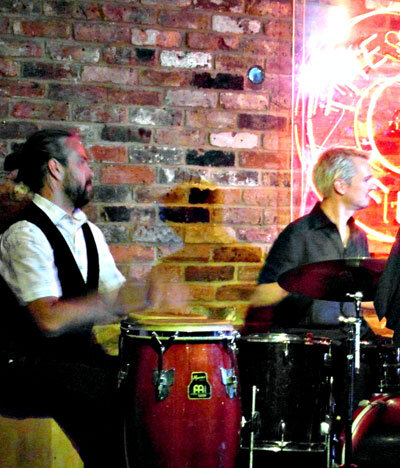 My original post published in April read:
Back in December, 2013, I posted a Jazz&Jazz feature entitled "Cold, Wet and Sockless? Entertaining Nevertheless!" with the introduction: "The Weave is a Liverpool based Jazz Sextet which veers more towards modern jazz, but with their own entertaining, exuberant and amusing twist as demonstrated in their  video, "Cold Wet and Sockless". 
One reviewer even described The Weave as "Satchmo-like … you can easily picture yourself sitting in a dark and smokey American jazz club. This is no wonder, since the two trumpeters have played in a New Orleans-style band for some years."
Perhaps my personal preference leans towards – not so much UK and European Trad – but New Orleans Revivalist Jazz. However, my priority is to promote live jazz, today's jazz, and particularly jazz played by our emerging new generation of jazz bands, with their own fans in their own preferred venues, and their own "twist", yet with profound echoes of past great eras.
The Weave Band Leader Martin Smith emailed me: "Although I guess you can say our music is fairly contemporary, I personally don't deal in those terms… there is only music, regardless of when or where it was made. The power of New Orleans Jazz to lift the human spirit is unrivalled for me, and just as potent and relevant now as it ever was."
Today "The Weaves" soulmate Derek Lovelady emailed me about their second album which is due for release in June: "It's probably not got owt on it pertinent to your website, but I thought you may like to take a peek at its cover artwork and some amusing photos here:  facebook.com/theweave3."
Not pertinent to my website, Derek? Let's be the judge of that when the album is released on 6th July. In fact, Jazzers, Martin tells me "The Weave" have a launch gig booked at "The Spice of Life", Soho, London, on the 9th July. So be there if you can!
Meanwhile, jazz fans, discover more about "The Weave" on their website.
The December, 2013, Jazz&Jazz post: "Cold, Wet and Sockless? Entertaining Nevertheless!"
Peter M Butler
Editor & Proprietor Jazz&Jazz
Please follow and like us: