I have a special affinity with jazz in Kent…
… and especially in East Kent! After all, that's where the adventures began all those years ago in the late 1950s and early 60s. My oldest school chum is also a keen jazz fan which is great because he lives in Kent and whenever I visit we take in local jazz. Plus I still have my spies strategically placed throughout the region who keep me posted on events.
Brian Summers is one of my chief under cover agents and when he gets scoops he sends them to me to share on Jazz&Jazz. So here is his very latest scoop – one of Kent's favourite jazzmen, Burt Butler with his Jazz Pilgrims captured on YouTube at Faversham's Car Classic Car Show in May!
So with no further ado, because in Kent they prefer their jazz to their ado (particularly another friend who recently moved from Gillingham to Faversham), here is Brian's YouTube. Thank you Brian! Fee on the way when paymaster permits!


Portrait of Burt
And, as an aside, I simply couldn't let this go without including my portrait of Burt which I painted of him when the Jazz Pilgrims played in The Duke of Cumberland in Whitstable. Nowadays they play regularly in Whitstable's Two Brewers – sounds altogether more appropriate in more ways than one!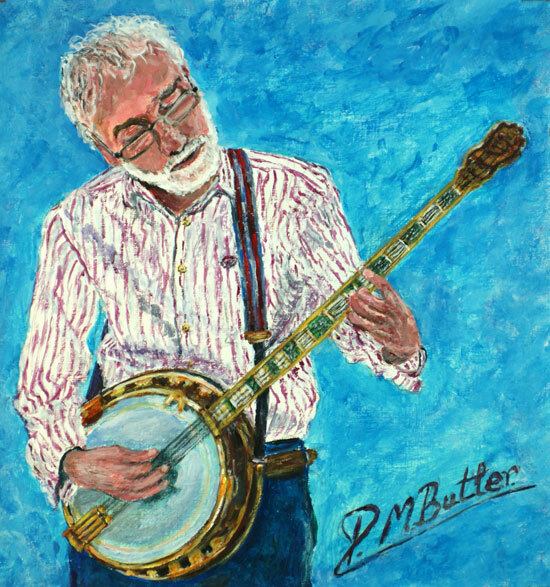 Peter M Butler
Spymaster & Proprietor Jazz&Jazz
Please follow and like us: