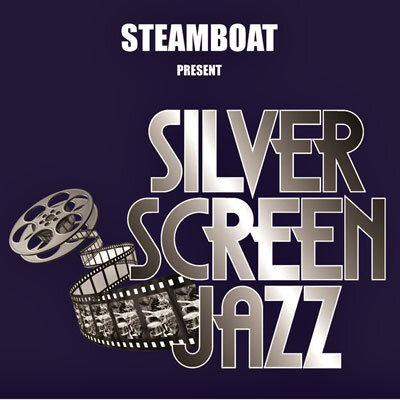 Focus will be on Radio 2 featured banjoist Richard Elmes and his Steamboat Jazz Band at The Astor Theatre, Deal, on 14th May, and The Stag Theatre, Sevenoaks, on 30th May.
Steamboat's musicians – Richard Elmes (Leader, banjo), Tony Richards (trumpet), Dave Corsby (reeds),  Martyn Rawbone (trombone), Gerry Birch/ Harry Cook (sousaphone), Dave Robinson/ Jimmy Tagford (drums) – will present a superb blend of music and movie comedy to make Silver Screen Jazz a sparkling spectacular for everyone.
Hot Jazz and Silent Screen Comedy
In Richard's own words, "I first had the idea for this after seeing contemporary rock bands playing live with a video screen behind them and thought of bringing the two definitive genres of the Roaring Twenties together, namely, Hot Jazz and Silent Screen Comedy".
Steamboat Jazz Band will turn up the heat with a blend of classic music and iconic film from the trailblazing decade universally renowned as the Jazz Age. The focus will be on standards such as Avalon, Doctor Jazz, Basin Street Blues and will present a rollicking montage of slapstick comedy from the Hollywood stars of
silent film.
VENUES:
Thursday, 14th May, Doors 7pm for 8.00pm Show
Deal, Kent: Astor Community Theatre, Stanhope Road, Deal, Kent, CT14 6AB
Ticket Price: £12.00
Tel: 01304 370220
Book: Tickets
Sevenoaks, Kent: Main Theatre, Stag Community Arts Centre, London road, Sevenoaks TN13 1ZZ
Ticket Price: £15, £13c/FoS, £10
A £2 administration fee is charged per sale.
Tel: 01732 450175
Book: Tickets 
Please follow and like us: