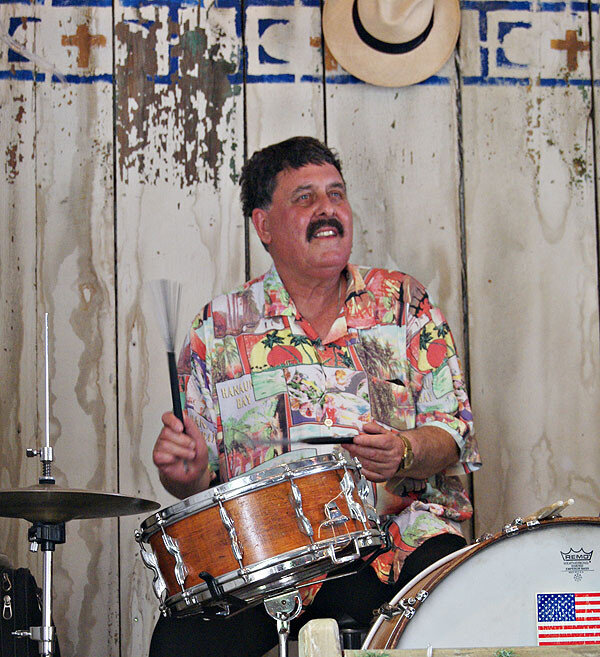 John A Dixon recently caught my attention in a post on my Facebook Jazzers Group.
He included a link to Burgundy Street Press and a feature entitled
BURGUNDY STREET PRESS & BARRY MARTYN 
I was privileged to paint Barry's portrait on drums during his final appearance at London's famous 100 Club on Oxford Street. And then I had the even greater privilege of meeting him in New Orleans in 2010.
Barry doesn't do email so I was all the more pleased to receive his handwritten letter:
"Dear Peter
"You have embarked on a lonely road. There have been few people painting New Orleans musicians over the years. There was one guy named Frank Caunce … in the 1965 – 72 period who was very good but not as organised as you. So keep doing what you are doing."
Barry Martyn
New Orleans
Burgundy Street Press wrote In their item entitled "Burgundy Street Press & Barry Martyn":
'WHAT A LUXURY FOR A PERSON WHO DOES NOT UNDERSTAND THE INTERNET, NOR EVEN OWNS A CELL PHONE, TO HAVE HIS OWN DEDICATED "WEBSITE" FOR HIM AND HIS PRODUCTS. IT IS CALLED BURGUNDYSTREETPRESS.COM'
The post includes this tribute to Barry:
"DRUMMER, RECORD PRODUCER, BANDLEADER… jazz researcher, and cigar-chomping raconteur Barry Martyn is a New Orleans original who happens to have been born in England. This might seem implausible, but it makes perfect sense to members of the New Orleans traditional jazz community, who view themselves as an extended family based on merit as much as nativity. One earns a place through a combination of musical talent, good works, and attitude, fueled by a desire to be "in that number." Martyn found his way to New Orleans because he knew in his heart that he belonged there. In responding to the music of sage practicioners such as the clarinetist George Lewis, he arrived with a sense of purpose, determined not only to learn from his musical heroes but also to really get to know them."
— Bruce Boyd Raeburn, Curator Hogan Jazz Archive, Tulane University
The You can read the entire post at: http://www.burgundystreetpress.com/#about-us
Thank you Barry for such wonderful memories!
…… and John Dixon, I owe you this for alerting me to the post:
https://squareup.com/market/shotgun-jazz-band/algiers-strut
Peter M Butler
Editor & Proprietor Jazz&Jazz
(Photos © Peter M Butler, Jazz&Jazz)
Please follow and like us: