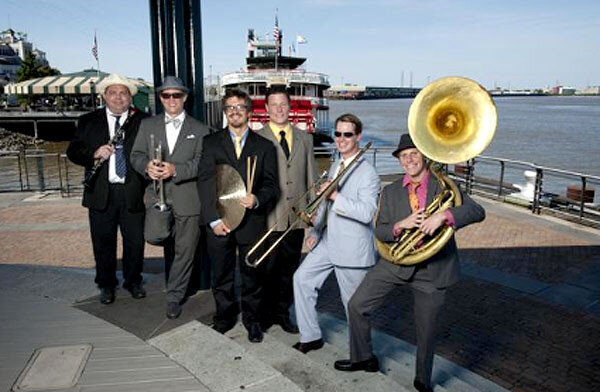 It was wonderful to receive news from New Orleans today in an email from The Dukes of Dixieland (Kevin, Ryan, Alan, Joe, David M, and David) announcing their Spring Programme, beginning with The French Quarter Festival.
So for those heading to New Orleans for the Festival, here it is.
(Reminiscences of 2010! One of these days perhaps ……!)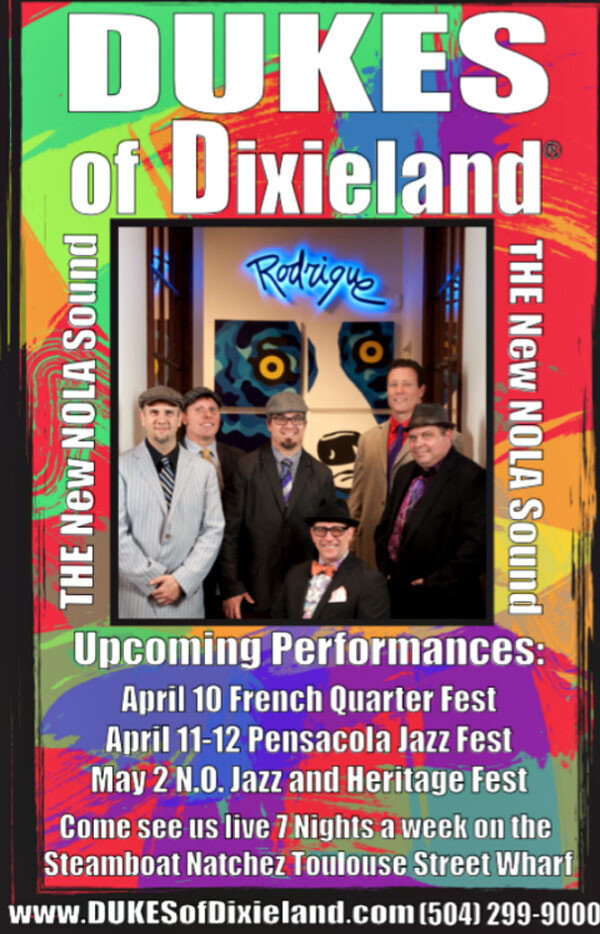 Spring 2015
IT'S FESTIVAL TIME IN NEW ORLEANS !!
The Mardi Gras season is behind us, and the DUKES escaped the grips of winter in Madison, WI, Chattanooga and Memphis, TN where they performed three concerts. Ron Jewell, the Director of the Bartlett Performing Arts Center just north of Memphis, reported "the DUKES went very well…great musicians, and the audience loved 'em!" 
Later that month, they performed for YAMAHA Musical Instruments at the National Association of School Music Directors and conducted a DUKES Music Clinic on the dock of the Steamboat Natchez (their home base) for a group of 50 music students. Now that the DUKES consist of 3 Bachelors of Music; 2 Masters of Music and one Doctorate of Music, we encourage Presenters to include a clinic with their concert performance to promote the next generation of concert goers.
So we now welcome Spring with performances at three Jazz Festivals, French Quarter Festival on April 10th from 4-5PM; Pensacola Jazz Festival on April 11 from 3-4PM & April 12th from 4-5PM and The New Orleans Jazz and Heritage Festival on May 2nd from 12:30 to 1:30PM. Come out and join us and listen to the NEW New Orleans Sound of the DUKES of Dixieland!  We will be recording a new live album at the Fest on May 2nd that will feature some new material and new arrangements with a Latino twist. Remember, many Latinos came to help rebuild New Orleans after Hurricane Katrina and this is one way we'd like to thank them for that!
Finally, we have booked a few one-nighters in the coming 12 months, and if anyone would like to tie in a concert date with our 2014-15 season, please let us know.
2015June 6      New Orleans Special Event
July 11     Niagara Falls Canada Jazz Fest
Sept 23     LaCrosse WI University
Oct 24      Newark-Granville Symphony2016Jan 22-23 Niceville FL Symphony Orch.
Feb 6        Mt Lebanon PA
Feb 5-9    New Orleans Mardi Gras
Feb 14      Bannging, CA
Feb 16     Coolidge, AZ
Feb 18      Yuma, AZ
March 3    Phoenix Musicfest
March 17   Jonesboro, AR
Copyright © 2015 DUKES of Dixieland, All rights reserved.
Please follow and like us: