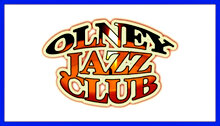 Hi everybody,
I'm sure all will agree that we've had some great bands playing OJC this year…. the Frank Griffiths Quintet in January, Graham Hughes' Sunshine Kings in February and last month the Richard Exall/Amy Roberts Quintet on the new stage, all playing to and entertaining capacity audiences. A big thank you to all who came and are helping to keep live performance jazz alive.
Tuesday April 7th

The next gig features the Richard Baker Quintet featuring Richard on trombone, Alan Wakeman on sax/clarinet, Ian Riley on piano, Dirk Griffin on bass and Alan Savage on drums.
8.00pm start. £10/£8 in advance from Carlton House Club, High St, Olney, 01234 711348
The Richard Baker Quintet
Originally a classically trained trombonist, Richard has worked in virtually every genre of music and appeared on numerous recordings during his 25 year career. As a jazz musician he has performed at venues all over the country as either a guest soloist or as a member of the many bands with which he regularly plays, including Richard Exall's Shooting Stars, The Nick Ross Orchestra, Jucamaya and Interplay. The quintet was formed in 2013 is an unashamedly straight-ahead ensemble reminiscent of the quintets led by Frank Rosolino and Carl Fontana during the 1950s and 1960s. Their repertoire is an entertaining mix of material from great jazz composers such as Gerry Mulligan and Joe Henderson, combined with sophisticated arrangements of standards and Richard's own compositions. Richard is joined on the frontline by renowned saxophonist Alan Wakeman and they are propelled along by the dependable rhythm section of Alan Savage (drums), Ian Riley (piano) and Dirk Griffin (bass).
Coming soon to Olney
Tuesday May 5th – "When Gospel Meets Jazz" featuring the Gary Wood Swing Band £10/£8
Tuesday June 2nd – "Celebrating Hoagy" with the Chris Ingham Quartet £10/£8
Tuesday July 7th – "Alan's Summer Jazz Bash" featuring  Roy Williams (trombone), Mike Wills (sax/clarinet), Tomas Pedersen (bass), Bobby Orr (drums) and yours truly on piano. £10/£8
Don't forget to book if you would like to eat at any of these gigs: two main courses for £10.
Tel: Carlton House Club 01234 711348 and Phonebox Magazine, Stanley Court, Olney
More details about OJC events plus photos, etc can be found on our website at www.olneyjazzclub.com
Hoping to see you soon at OJC,
Alan
Olney Jazz Club
Web: www.olneyjazzclub.com
email: olneyjazzclub@gmail.com
Please follow and like us: