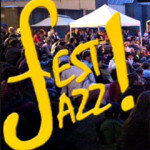 How could I not recommend Trevor Stent's International Festival in Brittany after such an inspiring and, yes, invigorating festival in 2014. I have featured several posts on Jazz&Jazz covering last year's festival, along with my YouTubes capturing such memorable magic moments. So why not begin this post with another YouTube of Trevor's own Good Time Jazz Band playing in the Grand Marquee with the main focus on the sheer vitality of the dancers – of all ages – packing the dance floor.
Inspiring? Then lets move on to Fest Jazz, 2015, Friday 24th – Sunday 26th July, and feature a selection of the incredible young bands and young stars – average age 24 – who will be playing at the festival this year. Theirs will be music from across the genres and decades with treats in store for all jazz and swing aficionados.

Hippocampus Jass Gang – A hugely popular group from the south of France:

Malo Mazurié's Hot Five – a fabulous international group playing the Louis Armstrong classics, including Malo the amazing young Brittany trumpeter, Korba Atila trombonist from the Bohemian Ragtime Band (playing here with "Attila's International All Stars") and
Sean Moyses (banjo) from Wisbech:

Ginger Stompers – A popular quartet from Paris:

Le Bardi Manchot – Up and coming young group from Toulouse:

Hot Sugar Band – The swing dancers' favourite from Paris:

Old Chaps – A young band from Lille with a very innovative jazz style:

Remi Harris – the superb young English guitarist:

Major Swing – Remi Harris will be featured with this fine, local Brittany group:

Electric Swing Circus – a touch of Caravan Palace style Electro swing from this young group from Birmingham:
Not forgetting the older (and just as wonderful!) talent of Bohém Ragtime Band:
… and of course: Good Time Jazz:
… and there is plenty more!  Write to contact@fest-jazz.com for details.
http://www.fest-jazz.com/english
PHOTOS
Feature Presented by
Peter M Butler
Editor & Proprietor Jazz&Jazz
Please follow and like us: