The first time I met Chris Hodgkins was during the 2014 Annual Rent Ceremony in Covent Garden* when he played in The Covent Garden Jazz Marching Band. Since then we have remained in touch chiefly via Linkedin. He has just released his April Newsletter which I'm pleased to reproduce here.
Dear Friend
Please find the latest news on my activities to date. Parliamentary Jazz Awards, Jazz Then And Now on www.jazzlondonradio.com, launch of  the new album of "Back in Your Own Back Yard"  plus tour dates and the latest blog on http://www.complaintsinwonderland.co.uk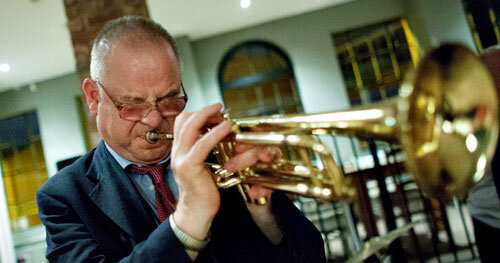 Parliamentary Jazz Awards 2015
Chris was recently awarded the Services to Jazz  Award at the Parliamentary Jazz Awards, House of Commons on the 10th March. The Awards are sponsored by the PPL. Thanks to Jazz London News you can read about the Awards here at the The Arts Desk
Jazz Then And Now on www.jazzlondonradio.com
In September  Jazz London Radio announced that Chris Hodgkins will be joining the station with a new weekly show called "Jazz Then and Now" on www.jazzlondonradio.com
The concept of the show is as Chris puts it "what it says on the tin". Chris delves into the history of the music and presents what is happening on the scene today with a watchful eye on British contemporary jazz. The show runs every Monday and Wednesday at 3pm and 8pm and repeated on Thursday at 8pm. See the weekly Play Lists for the show.
Chris Hodgkins album launch and live dates in April
Trumpeter Chris Hodgkins will be performing four dates in South Wales this April, to launch his new album with pianist Dave Price entitled Back In Your Own Backyard. Album release: Monday 6th April 2015. Albums can be purchased direct from Chris at chris.hodgkins3@googlemail.com The cost is £12 plus postage and packing. The album can be downloaded at Amazon will be out on digital services on the 5th May. Here are some links to a couple of tracks on YouTube Sweet Hearts On Parade, Angel Eyes,  Sunday.
In September last year Chris Hodgkins returned to Wales to record an album of originals, standards and one or two tunes from the archives. For the past 7 years Chris, on his visits to Wales, has worked with Dave Price on piano and Erika Lyons or Ashley John Long on bass. All three joined him on the album and the result is "Back In Your Own Back Yard".
"Aside from two originals and the poignant Black Butterfly, the repertoire suggests a formulaic Mainstream set that one might hear at a jazz party. But that narrow assumption vanishes once the music begins, for Chris, Dave, Erika, and Ashley offer serene yet searching chamber jazz, refreshing improvisations on familiar songs. The players have created an airy, open music, full of pleasant wanderings but solidly grounded in melody and beating-heart rhythms.
One of the most moving performances here is A Nightingale Sang In Berkeley Square, an etude for piano and two double-basses, both celebration and elegy for wartime Britain, with death, romance, and endurance intermingled.
Together, they make Back In Your Own Backyard what jazz recordings should be, no matter what genre: warm, wide-awake, deeply personal".
Michael Steinman, Jazz Lives
April Tour Dates
12th – Hanbury Arms **
Caerleon Uskside, Newport NP18 1AA
(Gig starts 5.30)
01633 420361
14th – The Angel *
Grosmont, Abergavenny, Monmouthshire, NP7 8EP
(Gig starts 8pm)
01981 240646
15th – Queens Head *
St James Street, Monmouth, NP25 3DL
(Gig starts 8pm)
01633 440739
16th – Café Jazz *
St. Mary's Street, Cardiff,
(Gig starts 8pm)
www.cafejazzcardiff.com
02920 387026
* With Dave Price (piano) and Ashley John Long (bass)
** With Steve Tarner (bass)
Chris Hodgkins recently retired after 29 years as the Director of Jazz Services, the national support charity for jazz music and musicians.  During his time at the organisation, he was honoured for his Services to Jazz at the 2002 BBC Jazz Awards and in July 2013 at the British Jazz Awards. In March this year he was awarded the Services to Jazz Award at the Parliamentary Jazz Awards 2015.  Despite his successes championing British jazz he still found the time to play himself, and as a musician released several great albums with his various groups, including 2009's Boswell's London Journal, which was reviewed as 'CD of the Week' in the Evening Standard.  With his days of administration behind him, Chris now takes to the road to focus on playing the music he loves.
In September Jazz London Radio announced that Chris Hodgkins will be joining the station with a new weekly show called "Jazz Then and Now" on www.jazzlondonradio.com The show runs every Monday and Wednesday at 3pm and 8pm and repeated on Thursday at 8pm. See the weekly Play Lists for the show.
Hodgkins was raised in Cardiff.  He co-founded the Welsh Jazz Festival and was instrumental in establishing the Welsh Jazz Society.  As a professional trumpeter, Chris has toured the UK and Europe, appearing at the Sacramento Jazz Festival in the USA.  Chris has also played in the Icon Jazzmen and in the bands of Monty Sunshine, Chris Haskins and Pete Allen. The Chris Hodgkins Band made a name for itself supporting the likes of Buddy Tate, Humphrey Lyttelton, Kathy Stobart, Bud Freeman and Wild Bill Davison. He currently works with Alison Rayner, Max Brittain and Diane McLoughlin.
Dave Price lives in Wales, UK, overlooking the Golden Valley and the Black Mountains. His passionate interest in jazz has given him the opportunity to accompany numerous international jazz celebrities as diverse as Art Farmer, Nat Adderley, Kenny Wheeler,  Tubby Hayes , Ronnie Scott, Peanuts Hucko, Digby Fairweather, Bobby Wellins, Kai Winding,  and George Melly, to name a few.
Erika Lyons was selected for the BBC Masterclass series with Ray Brown. This was followed by two years living in New York where Erika studies with Buster Williams, Rufus Reid and Hal Galper. Erika had a residency at the Surf Maid in Bleeker Street and played in other New York clubs including The Blue Note and the Jazz Forum where Erika worked with top names such as Walter Bishop, Steve Grossman, Eliot Zigmund and Betty Barney. On Erika's return to England she spent 6 years working on the London and European Jazz Scene recording, broadcasting and performing with top British and International musicians. Festival appearances have included Cascais, New York, Brecon, Cheltenham, Bracknell, Isle of Man, Birmingham, Bridgenorth and Ealing.
Ashley John Long is an award winning double bassist and composer. As a double bassist, Ashley is fast becoming recognised as one of the most unique exponents of his instrument in Europe. Since graduating from the Royal Welsh College of Music and Drama in 2008, he has maintained a busy and varied freelance career splitting his time between Classical, Jazz and session work. He has performed with some of the world's leading orchestras and Jazz musicians and broadcast on radio and television worldwide.
He has performed with leading Jazz musicians such as Keith Tippett, Art Themen, Bob Mintzer, Geoff Eales, Dave Jones, Tina May, Damon Brown Simon Spillett, Hans Koller, Craig Millverton and Bobby Wellins.
He has written music for a wide range of situations including for film and television and his recent works in the classical world have been highly acclaimed for their highly original and inventive writing including Flux (2006); which won him a publishing contract at the age of 19, and Hevelspending (2010) for the Lunar Saxophone Quartet, Songs of the Night (2007) for Joel Garthwaite, Frames (2008) for Dave Danford and XAS (2008) for himself and Louis-Michel Marion.
Previous albums
"Present Continuous", "Future Continuous"and "Boswell's London Journal" are available at emusic and Amazon
www.complaintsinwonderland.co.uk
This is Chris's blog aimed at raising funds for Jazz Services and the National Jazz Archive. The latest post deals with Rattlemania and the push by the cultural mafia or Rafia for a new concert hall for London.
"There was more Rattlemania in the Guardian on the 4th March 2014, with coverage of Simon Rattle and the Leader column exclaiming "Simon Rattle's return can be good for music, for London and the national status of the arts".
Rattlemania egged on by a self-interested cultural mafia has got out of hand. The problem with the arts in the UK is there is no concrete policy for music and the other art forms ………"  Please see Rattlemania for the full post.
For further information:
Chris Hodgkins
Tel: 0208 840 4643
Mobile: 0750 764 9077
chris.hodgkins3@googlemail.com
chris@bellcds.com
www.chrishodgkins.co.uk
www.jazzlondonradio.com
For Jazz Then and Now playlist go to:
https://chrishodgkins3.wordpress.com
www.complaintsinwonderland.co.uk
https://twitter.com/HodgkinsChris
Copyright © Chris Hodgkins All rights reserved.
* The Annual Rent Ceremony set off in Covent Garden escorted by the Town Cryer and
The Covent Garden Jazz Marching Band
Please follow and like us: