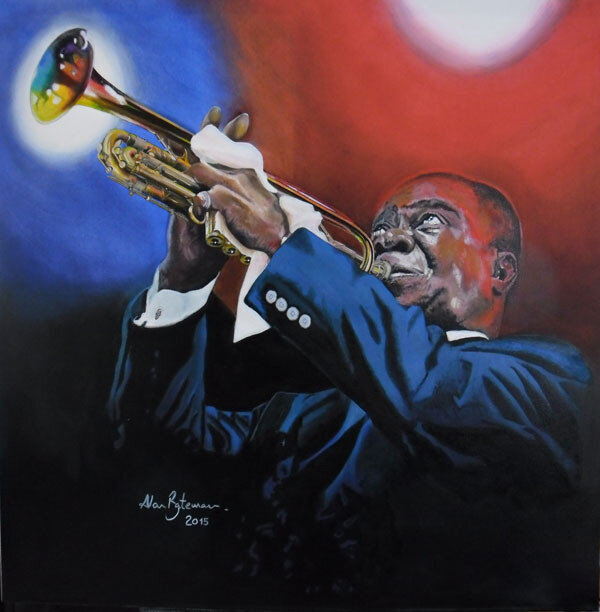 When Alan Bateman first posted his work-in-progress portrait in oils of Louis Armstrong, I knew a masterpiece was in the making. So I plotted progress from his Facebook updates. In his own words:
12th March: Giving it large at the Bateman residence – 40″ x 40″ Louis painting 3 days in. brushes are getting bigger!!
13th March: Louis has taken over the kitchen – Day 4, working on his head.
17th March: One week in, loving the psychedelic colours in the bell flare. I've been tinkering with the hands and face. steady progress.
26th March: Pops!! – Oil Painting.
I too like the psychedelic colours in the bell flare, Alan, and the intensity you've captured in Louis' expression. Pure Satchmo!
I was so taken with the finished word, yes, a masterpiece, that I simply had to ask Alan's permission to post the portrait on Jazz&Jazz because it encapsulates jazz.
Alan agreed and he emailed me:
"I'm in discussions with Ricky Riccardi, who is the Archivist from the Louis Armstrong House Museum in New York. He has agreed to have the picture. We've just got to figure out how to get it there in one piece!!
"I'll varnish and frame it in due course which should be fairly quick as the painting is done entirely in Alkyd Oils & mediums.
"I hope I've done him justice, its important to have an opportunity to give something back after the pleasure Louis gave to us all. I hope people will get a lot of pleasure from observing the painting for many years to come."
Alan plans to get the portrait professionally scanned as people are asking if prints will be available. Most certainly it's a collectors' item.
Thank you for letting me post "Pops" under "Jazz Art" on Jazz&Jazz, Alan.
Peter M Butler
Editor & Proprietor Jazz&Jazz
Please follow and like us: