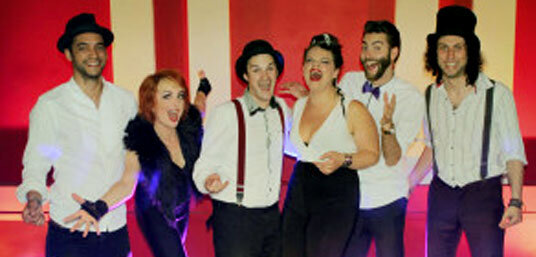 In keeping with our aim to introduce emerging, younger
generation bands, Jazz&Jazz is delighted to feature
"The Electric Swing Circus"

The 1920s/40s American Swing Era introduced a new breed of jazz musicians including Fletcher Henderson, Duke Ellington, Buster Bailey, Benny Goodman and Count Basie. 
Since 2011 "The Electric Swing Circus" (ESC) has been reviving Swing, not in America but throughout the UK. ESC – A 6-piece fusion of "saucy 20′s swing" – bring their own unique style to Swing and an "explosive sound that reverberates back through time".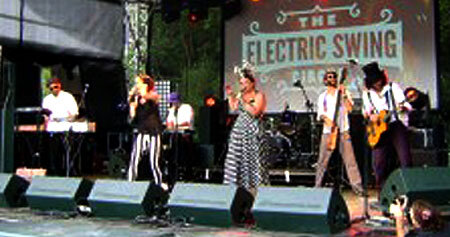 2014 was a big year of festivals and international touring for ESC, and they have a
new album in the pipeline this year.
Their bookings for 2015 are rapidly proliferating, including Trevor Stent's upbeat Fest Jazz at Châteauneuf-du-Faou, Brittany, 24th – 26th July. It was Trevor who first drew my attention to
Electric Swing Circus.
But much sooner than Fest Jazz is their star slot this coming Friday, 13th March, in London at the Coronet Theatre's "Valentine's Masked Ball".
info@coronetlondon.co.uk
Tickets: http://www.acuriousinvitation.com/partytickets.html
Electric Swing Circus's line-up features Laura Louise and Bridget Walsh (vocals), Chandra Walker (drums and keyboard), Tom Hyland (guitar), Rashad Gregory (samples, MPC & synths) and Patrick Wreford (bass & bass synth).
Electric Swing Circus Website: http://electricswingcircus.com
email: management@electricswingcircus.com
Peter M Butler
Editor & Proprietor Jazz&Jazz
Please follow and like us: