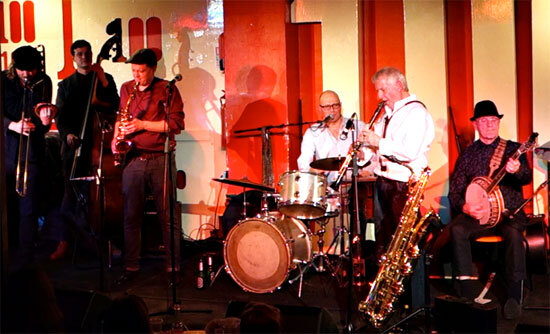 Featured below is another YouTube of TJ Johnson, Adrian Cox, Sky Murphy, Tony Pitt, Roger Myerscough and Jay Darwish presenting an evening of full on jazz at The 100 Club on Wednesday, 28th January.
My Jazz & Jazz YouTubes are integral to my aims in supporting Jazz, besides which they are fun to take. It's never easy to film at The 100 Club, especially when there is a full house and fans dance in any space available. Plus there is that immovable object front of stage – the nightmare pillar which over the years has defeated the best of professional camera men,
let alone budding amateurs.
But on this occasion Raye Caluori, Chief Sound Engineer at The 100 Club, came to my rescue by welcoming me alongside him in the Control Booth from where, to an extent, I even managed to overcome the pillar.
I have the latest high tech Karl Weiss Sony Lens Camera / IPhone combo for discreet, high definition filming. With the lens atop a monopod controlled from the iPhone at my finger tips by a local Sony wifi app, I can film from almost impossible positions. For instance, Raye and I lodged the monopod way out on his Control Panel overlooking the stage and angled in the best possible position to avoid the pillar.
This YouTube demonstrates the results. The first number, "Nobody Knows" is a wrap. But when I continued filming "The Lighthouse" I got into a bit of a tangle by reaching out too far and "loosing" the monopod off the end of the Control Panel, despite Raye's efforts to rescue me!
Nevertheless, even though "The Lighthouse" is cut short and doesn't quite avoid the pillar, I simply had to include it! Plus there's plenty of TJ humour in both numbers to add to the fun. So I hope you enjoy them.
Photos & YouTube © Peter M Butler, Jazz&Jazz
Please follow and like us: