Back in October, 2013, I featured London based Old Hat Jazz Band on Jazz&Jazz in a post entitled "Capturing the Quintessential Sound of Early Jazz". I quoted Mike Pointon's article in Just Jazz (July, 2013) – Old Hat "are anything but old hat … but a talented young group – all in their twenties – playing a repertoire that owes nothing to British influences or Euro Trad."
Old Hat introduce themselves as "some of London's finest young jazz musicians, playing hot and swinging jazz from the 20s and 30s and their original tunes for your listening and dancing delight." They list their genre as Jazz / Swing / Blues / New Orleans Jazz.
Band Leader Elizabeth Exell has now announced the date for their  the EP launch. It is to be on Friday,  27th February (Old Hat's third birthday party!)  at Jamboree in Limehouse. Doors at 8pm.
Tickets: http://www.wegottickets.com/event/304507
Be sure to watch their pre-launch YouTube at the foot of this post.
Old Hat Jazz Band are:
Adam Tyas (trombone), Ewan Bleach (clarinet, sax), James Kitchman (guitar), Joe Webb (piano), Lizy Exell (drums), Louis Thomas (bass), Mike Soper (trumpet), Simon Marsh (clarinet/sax),
Will Scott (clarinet).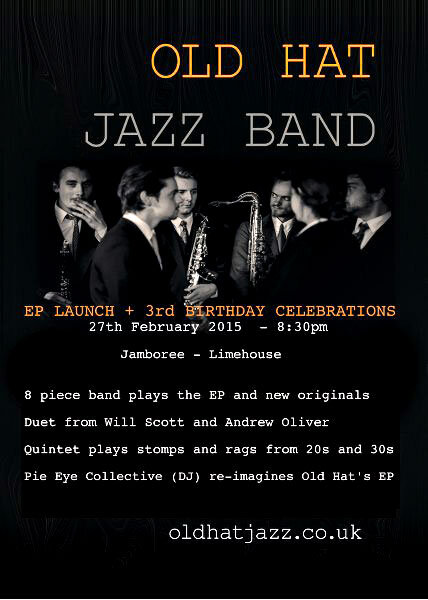 To help you get into the swing with Old Hat Jazz Band, here is their pre-launch YouTube:
Website: http://www.oldhatjazz.co.uk/
Facebook: facebook.com/oldhatjazzband
Twitter: twitter.com/oldhatjazzband
(With exception of Ewan Bleach, Photos by Laurence Cumming © Peter M Butler, Jazz&Jazz)
Please follow and like us: