Along with Enfield, Hatfield, Potters Bar and Welwyn Garden City, and recently I was told,
St Albans, back in the 1950s/60s Hertfordshire was a hotbed of jazz. Potters Bar was home to greats such as Acker Bilk, Terry Lightfoot and Kenny Ball. Chris Barber was even born in Welwyn Garden City.
When I moved from Hertfordshire back in August, 2013, Welwyn Garden City's Peartree Jazz Club was still striving to carry on the tradition. But now even The Peartree is no longer a venue as the club has relocated in Lemsford Village Hall, renamed The Lemsford Jazz Club, restoring a more recent tradition of jazz in The Long & The Short Arm public house.
So when we moved from Lemsford Village in 2013 I wondered where I would find jazz in and around Bedfordshire, our new county. I need not have worried because I soon discovered I had moved pretty well central to a "new era" emerging hotbed of jazz, covering a zone from Hitchin, Luton, Bedford itself, to Olney in Buckinghamshire and Blisworth and Wellingborough in Northamptonshire.
What has spurred this analysis of regional jazz?
First, the fact that as a youngster Chris Pearce lived in Welwyn Garden City and from his school he could see Lemsford Village from his school playground – even the home we moved from.
Second, because Chris and his Frenchman Street Band, based in Gloucestershire, star regularly at The Walnut Tree Jazz Club, Blisworth, Northants.
Third, because for Jazz&Jazz to feature as many jazz bands as possible without a crippling outlay for long journeys nationwide, I need top rate venues within striking distance of home. Tad Newton runs such venues at The Walnut Tree, Blisworth and The Castle, Wellingborough, in Northants, and at The Bedford Golf Club (even closer to home).
Fourth, because Alan Haughton, his colleague and pianist in his band, "Tad Newton's Jazz Friends", runs Olney Jazz Club in Buckinghamshire, also within easy striking distance. All four are thriving clubs and I count Tad and Alan among my "jazz hero" friends.
Therefore I feature them regularly on Jazz&Jazz, not because I favour them above other clubs and venues, but because due to them I can feature a huge range of jazz bands and musicians on Jazz&Jazz.
So, announcing Chris Pearce's Frenchmen Street Band at The Walnut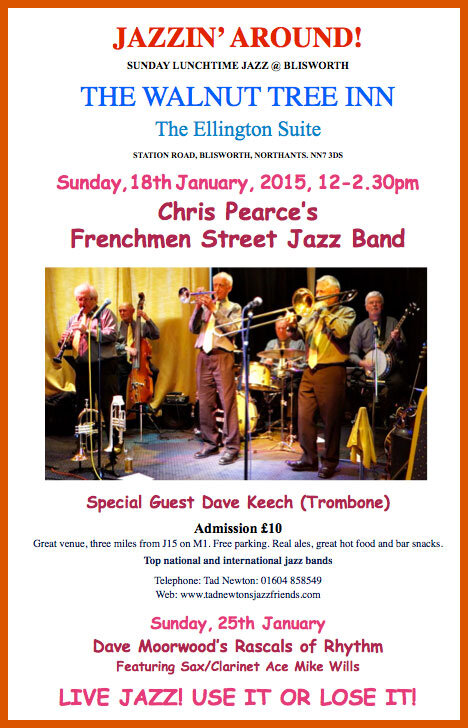 Web: Tad Newton's Jazz Friends
email – tadnewton@fsmail.net
Tel: 01604 858549
email – olneyjazzclub@gmail.com
Tel: 01234 711348
RIDER
Ian Brameld posted on my Facebook Jazzers Group that I failed to mention Hertfordshire's Pumphouse Jazz Club in Watford. Even though The Pump House is slightly outside the area under consideration, I apologise because it is a long established, thriving club.
Web: Pumphouse Jazz Club
Please follow and like us: