Wednesday, 28th January, 2015, saw TJ Johnson's Bourbon Kick play a night of
New Orleans music at London's iconic 100 Club. Host to many great bands over the years,
this 100 Club Special brought back echoes of it's glorious jazz heritage. What's more, it could herald a 100 Club Jazz Revival!
TJ  and Adrian Cox brought together the UK's finest exponents of New Orleans inspired jazz on the night:
TJ Johnson – Drums/Vocals
Adrian Cox – Saxophone/Clarinet/Vocals
Sky Murphy  – Trombone/Vocals
Tony Pitt – Banjo
Roger Myerscough – Clarinet/Saxophone
Jay Darwish – Double Bass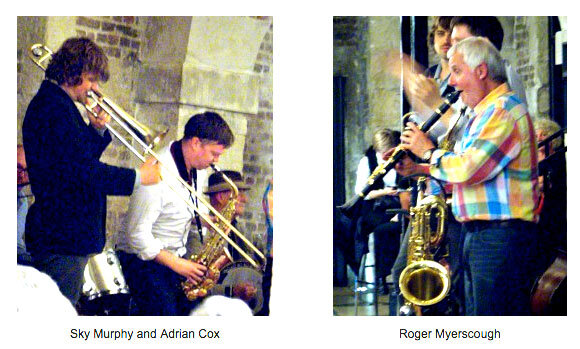 BELOW: "CHINA BOY DON'T SLEEP" Joyous Jazz at the last 100 Club Thursday Midday Gig. Yet are we seeing new beginnings?
Published on 17 Dec 2013: The 100 Club in London's Oxford Street was packed full with ardent fans on 12th December, 2013, for Kay and Tony Leppard's last Thursday lunchtime session. It was reminiscent of the old days. Adrian Cox (clarinet), Ged Hone (trumpet), Ben Martyn (bass), Emile Martyn (drums), Mike Pointon (trombone), Tony Pitt (banjo), Ray Smith (piano).
(Photos & YouTubes © Peter M Butler, Jazz&Jazz)
Please follow and like us: