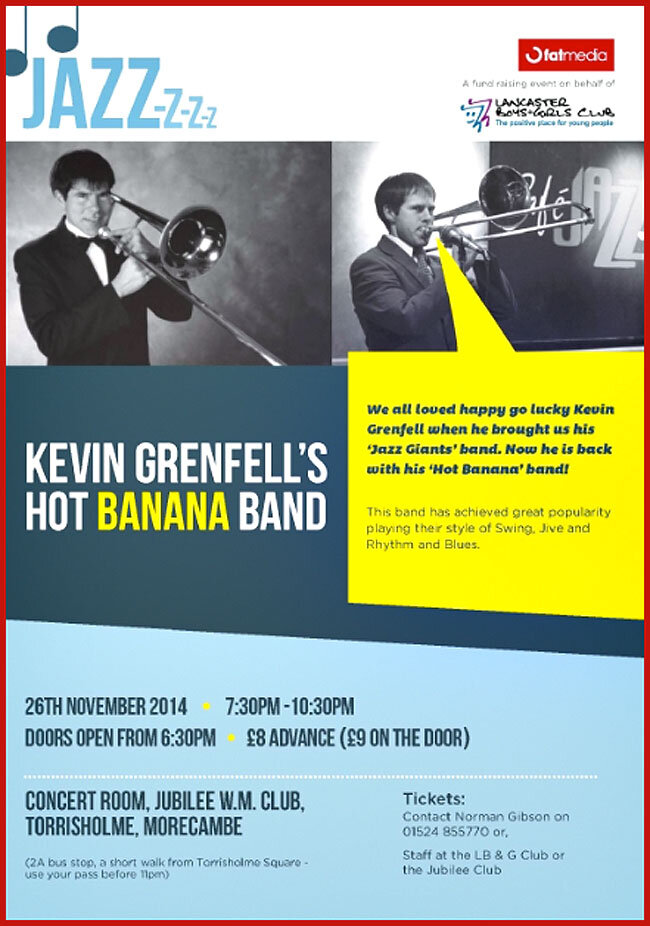 On Wednesday 26th November Kevin Grenfell will be performing with his Hot Banana Band from 7.30 to 10.30pm at the Jubilee WM Club, Torrisholme. We are sure of some good Swing and Rhythm & Blues plus a good smattering of Kevin's unique brand of humour.
Tickets are £8.00 in advance (£9 on the door)

It seems unbelievable that it was twelve months ago that I started 'JAZZ4FUNDS' to help Lancaster Boys and Girls Club, and even more unbelievable that the total has gone over £1,600!!! All while we have been seeing some really good performances at reasonable cost, in a really good comfortable venue and with drinks over 50% cheaper than pub prices!
Ring me asap 01524 855770 or email: [email protected]
DIARY NOTE: Wednesday 28th January 2015 a superb young band JAKE LEG JUG BAND  will strut their stuff to give us their take on authentic music of the 20's and 30's.
ALWAYS REMEMBER 'GOOD MUSIC MAKES GOOD FRIENDS'
Thanks for supporting me.
Norman Gibson
(Supporter of Lancaster Boys & Girls Club)
Preview of Kevin's humour plus a very special trombone solo:
YouTube © Peter M Butler, Jazz&Jazz
Please follow and like us: