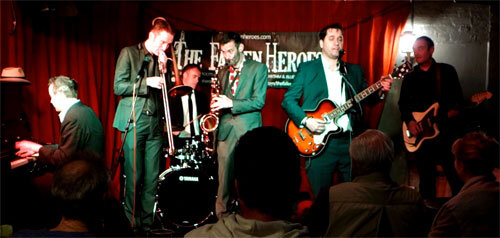 On Sunday, 16th November I headed south of the river for a Fallen Heroes' Gig at The Bull's Head in Barnes. Overlooking the Thames, The Bull's Head was one of the first jazz venues in London if not in the UK. Opened at the same time as Ronnie Scott's it became known as the "suburban Ronnie Scott's".
Enlightened and inclusive approach to jazz
The Fallen Heroes are led by Emile and Ben Martyn, sons of Barry Martyn, long since based in New Orleans. I have spoken to Emile about my aims for promoting younger bands, a subject on which he has strong views. In fact, listen closely to what what Ben and trombonist George Simmons have to say in introducing two of the YouTubes featured below. They get to the nitty gritty of the eclecticism adopted by these bands in their un-blinkered and inclusive approach to jazz. So essential if we are to break free of the lamentations of ageing fans about the decline of "trad" and the plight of ailing jazz clubs.
But we'll have to wait a while for Emile's views because he wasn't with the band in Barnes. He was taking a working break in New Orleans and visiting his dad. I'll catch up with him some time soon at The Blue Posts, Rupert Street, in London.
The Musicians
Appearing at The Bull's Head on the 22nd were band members Ben Martyn, Vocals & Guitar;  John 'Radio' Ruscoe, Guitar; Ian Beetlestone, Piano' and George Simmons, Trombone; along with, guesting, Malcolm Neat on drums and Tony Rico Richardson on saxophone. Plus special guest Tim Penn also on piano.
Enjoy the YouTubes, enjoy the music – and listen to what Ben and George have to say.
Peter M Butler
Editor & Proprietor Jazz&Jazz
Photos & YouTubes © Peter M Butler, Jazz&Jazz
PS: I mentioned at the beginning of this post that I first saw The Fallen Heroes at "Jazz In The Barn", Throwley, Kent, in 2008. I returned to Throwley for their 2009 and 2010 sessions. Back then I began painting jazz musicians (though I haven't for a while due to time spent keeping Jazz&Jazz up to date). Emile, who is himself a fantastic artist, was happy for me to take reference shots to work from. So here are my Throwley works plus one of Barry Martyn playing his last gig at The 100 Club. I presented it to him in New Orleans. He wrote me a letter and urged me to "Keep doing what you are doing!"
Please follow and like us: