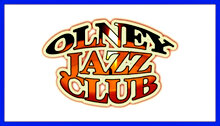 Hi to all you lovers of live music of the jazz idiom,
Wasn't it a great October gig with the youthful Ben Holder and his band?! He's definitely on the returns list, next time, I hope, with his theatrical Gypsy Fire show. I've included a YouTube, courtesy of Jazz&Jazz, of one of the numbers he played at Olney at the foot of this post.
November 4th sees Tad Newton's Jazz Friends breeze into town together with US sax star Greg Abate  who is over on his annual Autumn UK tour. It'll be a great evening of jazz from the golden period featuring:
Greg Abate (sax/flute)
Gary Wood (trumpet)
Trevor Whiting (sax/clarinet)
Tad Newton (trombone)
Tomas Pedersen (bass)
Ronnie Fenn (drums)
and yours truly on keys.
Tickets on sale now  £10/£8 in advance. 8.00pm
Our Christmas Gig this year features Sophia Ripley (vocals) together with Nick Pugh (electric bass), Ronnie Fenn (drums) and yours truly on keys plus special guest to be confirmed. Come and celebrate the build-up to Christmas with this special festive gig on Tuesday December 9th. Tickets now on sale…£10/£8 in advance. 8.00pm.
Looking ahead to the New Year we are lucky to have secured the Frank Griffith Quintet to gig  on Tuesday January 6th. He is a leading light in the UK jazz scene with an amazing cv – check him out on www.frankgriffith.co.uk. A steal at £10/£8 in advance.
All gigs are at The Carlton House Club, High St, Olney MK46 4BB, and all start at 8.00pm.
Why not book a table to dine? Two main courses for £10! Tel: 01234 711348 .
Don't forget to check us out at www.olneyjazzclub.com
Looking forward to seeing you at OJC soon.
Best wishes,
Alan
Olney Jazz Club
Please follow and like us: