Betty Renz is my foremost jazz heroine. It is she who inspired the launch of Ramsgate Seaside Shuffle in 2011 – the UK's youngest jazz festival which continues to grow from strength to strength each year.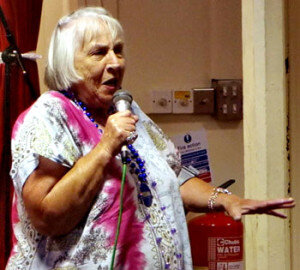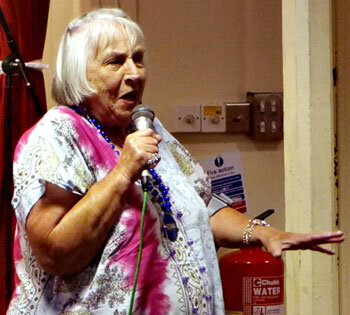 Now aged 82, Betty's enduring love is jazz and one of her ambitions is to sing with as many jazz bands as possible, and even to sing with, wait for it, André Previn!
It is my huge privilege to have been involved with Ramsgate Seaside Shuffle and with Betty since it's launch through the good offices of the organising committee.
Following this year's festival this remarkable lady was interviewed by Kent Atelier about her life, her loves and her music – including her love for jazz. It's so worth listening to – and Betty's immense humanity shines through. Please click here to listen to the interview.
Plus, I just had to paint Betty's portrait from back in the days when she sang with Burt Butler's Jazz Pilgrims in The Duke of  Cumberland, Whitstable, Kent. Click here to view.
Jazz&Jazz will feature a selection of YouTubes of Betty singing with jazz bands. Here she is singing with Pete Lay's Gambit Jazzmen, Chris Marney, Alan Gresty, Roger Myerscough and Roger Link at Ramsgate Seaside Shuffle, 2014. (Best viewed on YouTube in HD.)
Photos & YouTubes © Peter M Butler, Jazz&Jazz
Please follow and like us: