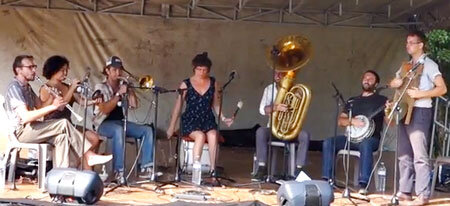 More great sounds from Fest Jazz's Tenth Anniversary Festival at Châteauneuf-du-Faou, Brittany, July, 2014. The weather was glorious and en plein air suited Tuba Skinny's New Orleans Street style. No wonder they stole the show! "Big Chief Battle Axe" was composed by Thomas S. Allen in 1907.
British fans are pressing hard for them to tour the UK. Join the campaign by posting your comment below.
NB This video is not centring on this  page. A YouTube glitch, so please view via the
YouTube button bottom right.
Photos & YouTubes © Peter M Butler, Jazz&Jazz
Please follow and like us: