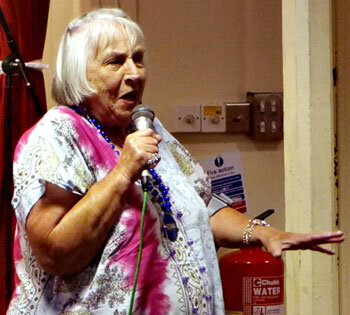 Ramsgate's very own Sophie Tucker stole the show during Seaside Shuffle's 2014 Festival when she sang "There'll Be Some Changes Made", accompanied by Pete Lay's Gambit Jazz Band.
And why not, because in many ways the show is hers! She had long had visions of a seaside festival in South East Kent and what better place than Ramsgate.
So it was that back in 2010 she got together with Chris Pout, who now chairs the Seaside Shuffle Committee, to explain her dream. An organising committee was formed and in 2011 the festival was launched.
Now in it's fourth year, Seaside Shuffle also holds monthly gigs and whenever she sings, Betty continues to steel the show.
For full picture, the video is best watched on YouTube in HD.
Photos & YouTubes © Peter M Butler, Jazz&Jazz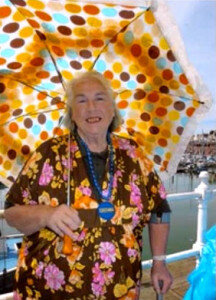 Betty singing on Margate Seafront back in the 1980s
Hit this link to listen to KASPAAR Sound Recording Specialist's excellent recording of
Betty singing with The Gambit Jazz Band at this session at Seaside Shuffle Festival.
Please follow and like us: