I have followed Joan Chamorro's incredible youth band for some months on Jazz&Jazz so it was a huge privilege to meet him at Fest Jazz and even to become Facebook Friends.
His work with his young stars is inspirational – hardly matched any where else in the world
let alone in the UK.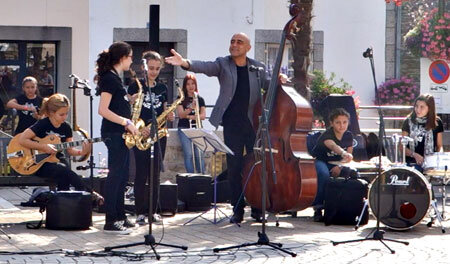 Here they are performing "All Too Soon" en plein air in Châteauneuf-du-Faou's town square.
None too soon for me, that's for sure.
Back in January, 2013, I featured Joan and Andrea Motis, one of his young proteges, in my post entitled "Encouraging Signs for Jazz in Europe, So Why Not in the UK?".  Be sure to read Pete Lay's comments which follow the article.
So why not in the UK? Wouldn't it be wonderful to welcome this amazing youth band to our shores? If Trevor Stent and Fest Jazz in Brittany can do it, surely we can! You can have your say in the "Comments" section below.
More Fest Jazz YouTubes will follow, including the equally inspiring and refreshing Tuba Skinny stars and the Saint Andreau Band performing to packed audiences in the Grand Marquee.
Photos & YouTubes © Peter M Butler, Jazz&Jazz
Please follow and like us: