Ben Waters and his thirteen year old son, Tom, filled the floor with dancers at Fest Jazz,
Châteauneuf-du-Faou, July, 2014.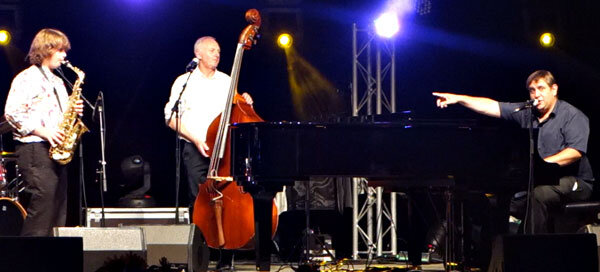 "A fabulous boogie-woogie pianist with enormous energy to go with his wonderful talent, Ben stars at jazz festivals around the world and with The Rolling Stones." Tom is equally talented on saxophone and together they are star performers.
Fest Jazz, Châteauneuf-du-Faou, Brittany, is a jazz festival with a difference. Sure there was New Orleans and Traditional Jazz with Tuba Skinny, The Limehouse 7 and Trevor Stent's Good Time Jazz Band, but there was also Mainstream Jazz PLUS Ben Waters.
Because Fest Jazz "mixes it a bit"
This way it doesn't just appeal to ageing jazz fans but also to the local towns people and youngsters. This was its 10th Anniversary Year and it was more successful than ever. Whether or not such a jazz festival would appeal to UK fans is questionable. But if so, who knows, it might even attract some commercial backing.
Personally my favourite is New Orleans Revivalist Jazz but I enjoy other genres too and if mixing it a bit could stir things up I'd be all for it.
In this YouTube Ben and Tom bring the house down so you'll need to dodge the mass of dancers to get sight of them on stage.  (Best viewed on YouTube for full screen. Be sure to hit HD).
Photos & YouTubes © Peter M Butler, Jazz&Jazz
Please follow and like us: