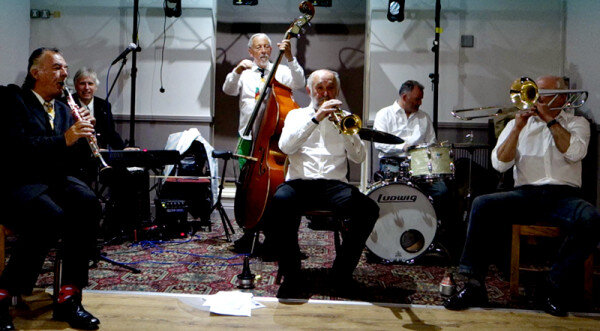 A wonderful gig was enjoyed by one and all at The Peartree Jazz Club, Welwyn Garden City, on Monday evening, 14th April, as this YouTube attests.
Royally entertained by Brian Turnock's New Orleans Z'hulus during their 2014 UK Tour, as you will see, Peartree fans almost got treated to a round of birthday drinks in honour of Emile Van Pelt! Watch out for Emile Martyn's drum solo.
"Runnin' Wild", is a popular song written by A.H. Gibbs, Joe Grey and Leo Wood, and first recorded in 1922. Emile Van Pelt (piano), John Defferary (Clarinet), Brian Turnock (Leader, Bass), Dan Vercruysse (Trumpet), Emile Martyn (Drums), Philippe de Smet (Trombone).
Please follow and like us: