Dynamic Links between New Orleans and Japan demonstrate the virtues of jazz as an educational tool and a force for peace, unity, dialogue and enhanced cooperation among nations, international organisations and peoples.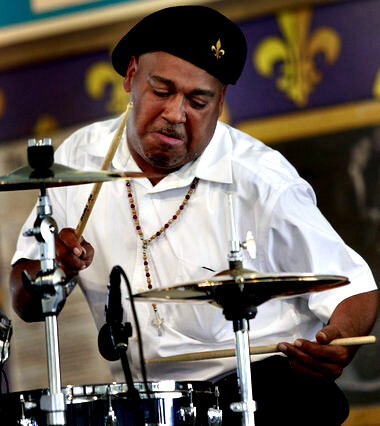 Shannon Powell
Shannon Powell, "The King of Tremé", is a New Orleans jazz virtuoso drummer.
Shannon was born and raised in Tremé, adjacent to the French Quarter and home to many famous musicians. Shannon's grandmother, Veronica Batiste, played piano in the Baptist church. By age six he was playing drums regularly and was asked to join The Fairview Baptist Church Marching Band where he played alongside Leroy Jones, Wynton Marsalis, Dr Michael White, Lucien Barbarin and Anthony "Tuba Fats" Lacen.
Currently he plays with the Preservation Hall Jazz Band and leads his own quartet.
Shannon has toured Europe and Asia and in June and July this summer he is due to tour Japan with his Traditional All-Star Jazz Band.
 Yoshio Toyama
Japanese jazz trumpeter and singer Yoshio Toyama is a dedicated fan of New Orleans jazz and Louise Armstrong. He has made a lifelong commitment to mastering Armstrong's music and back in the 1960s he made regular pilgrimages to New Orleans and Preservation Hall. From 1968 until 1973 he and Keiko lived on Bourbon Street, around the corner from Preservation Hall and later on Orleans Street right next to legendary William Russell. Since then they have made regular pilgrimages to New Orleans and Preservation Hall and since 2003 Yoshio has performed regularly at the Satchmo Summerfest.
Such has been their enduring love for New Orleans that in 1994 Yoshio and his wife Keiko, recognising the growing problems of a gun culture in the city, particularly amongst teenagers, founded the "Yoshio & Keiko Toyama and Wonderful World Jazz Foundation" which includes "Horns for Guns", a project they launched the same year to get youngsters involved in music by persuading them to give up their guns in exchange for trumpets donated by Yoshio and Keiko.
Yoshio says: "For us, continuing with Horns for Jazz is our way of saying thank you, New Orleans, for all the wonderful musicians we have met from Allan Jaffe to Bill Russell, everybody, and of course, Preservation Hall. Jazz is the most wonderful present, along with Satchmo, New Orleans and the USA has given to the world. Horns for Guns is our way of giving something back."
In 2005, Yoshio and Keiko played a huge role in raising funds for New Orleans following the devastation of Hurricane Katrina. When Ms. Magaret Saizan of Baton Rouge launched  "Beyond Katrina" she asked Yoshio to write for the blog. More recently, they hosted a delegation of New Orleanians in Japan visiting areas devastated by the 2011 tsunami with charity repaid in kind. The Japan Times ran an article headlined "Torn Apart by Disaster, Bound by Jazz".
Magical Connections
When Shannon was just nine years old and Yoshio and Keiko Toyama lived in New Orleans, they happily took care of him for a while. "He was already a great drummer," Yoshio recalls.
You can discover more about their earlier years in New Orleans in this Fall 2000 New Orleans Jazz Club Newsletter article entitled "Our Friends from Japan". Or to discover much more about the depth of Yoshio and Keiko's involvement with New Orleans and the accolades they have received, hit this link.
Last year Soka Gakkai International (SGI), a Buddhist Association for Peace, Culture and Education, asked Yoshio if he could suggest a New Orleans Band to tour Japan. Without hesitation Yoshio recommended the "Shannon Powell Traditional All-Star Jazz Band".
The tour is scheduled for 18th June until 7th July, touring 12 Japanese cities. Yoshio and Keiko will tour with the band as MCs and as guest musicians. You can find out more about the tour on Shannon's website.
Dynamic Links
Incredibly, after Yoshio and Keiko launched Horns for Guns way back in 1994 they sent over 800 horns in 20 years with the help of Nippon Express. Then when Katrina struck, Japanese Jazz Fans donated via Horns for Guns instruments and funds amounting to $100,000 for musicians who had lost their instruments, their homes and their livelihoods.
More recently it seems the Horns for Guns concept has been joined  by Father Bill Terry, the rector of New Orleans' St. Anna's Episcopal Church.
In 2007, Father Terry, himself realising that something needed to be done to curb the violence plaguing the city, began listing the names of murdered New Orleans citizens on a board outside the church. Hence his campaign which he also named Horns for Guns was born.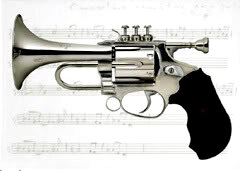 He bases it on a "gun buy-back program". For every gun turned in – no questions asked – youngsters are offered a horn, along with a musical education. He also offers each child and his or her family a host of services – mental, physical, and spiritual health supports, along with mentoring and vocational training, and an opportunity to symbolically shift direction – away from violence, and towards more positive life goals.
"The driving force is to begin to address the issues of urban violence at its roots, and its roots are kids," says Father Terry. "If we can help a kid make a different life pattern and offer him an alternative to street culture, and if we can embrace that kid for the vulnerable years of 9 to 17, then we are accomplishing a lot for our community."
I wonder if Father Terry is aware of Yoshio and Keiko's parallel Horns for Guns launched in 1994. Yoshio commented: "Maybe he got the idea from our story … that's fine! We are glad it's being reinforced locally in New Orleans."
Great East Japan Earthquake
Then in 2011 the Tohoku earthquake and tsunami struck Japan with devastating consequences. Yoshio tells me how the people of New Orleans stood up for Japan saying "it's our turn to help".
The Tipitina Foundation told him they wanted to send instruments to kids who lost horns in the Tsunami… and Mr Wilbert Rawlins held a "Japan Aid Concert" in NOLA.
Next, when the Swing Dolphins, a Japanese youth jazz band, made a come back after the tsunami, Yoshio dreamed of Katrina kids and Tsunami kids meeting up and playing jazz together. His dream was fulfilled. Fall 2012, Tipitina's Intern Band and O Perry Walker's "Chosen Ones Brass Band" visited Japan and played with the Swing Dolphins, and in 2013 The Swing Dolphins came to New Orleans to play in the Satchmo Summerfest.
Yoshio tells me that having learned about all of these dramatic events, UNESCO contacted him for photos and videos of the accomplishments to be displayed at their recent Osaka International Jazz Day.
Appropriately so as, held annually, International Jazz Day celebrates "the virtues of jazz as an educational tool, and a force for peace, unity, dialogue and enhanced cooperation among people."
Thank you, Yoshio and Keiko,  for asking me to create this post on Jazz&Jazz. I count it an honour and a privilege.
Peter M Butler
Editor & Proprietor Jazz&Jazz
Two more links to related articles published on "AMERICAN VIEW" by the
US Embassy in Japan:
The Jazz Connection: "Japanese Satchmo" Forges Bonds between Japan and New Orleans
"Youth Band from Tsunami-stricken City Performs in Jazz Mecca"
by Yoshio and Keiko Toyama
For further information as to the scale of US/Japanese cooperation, visit:
The TOMODACHI Initiative in Japan
Tipitina Foundation in New Orleans

See also "The Positive Power of Jazz"
Please follow and like us: