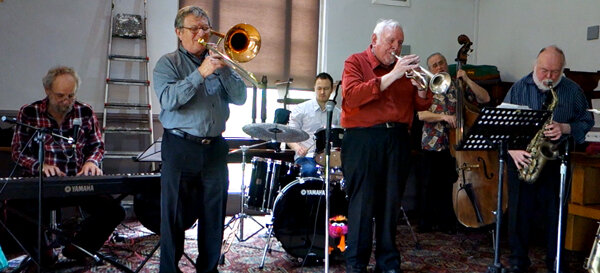 It's surprising what a bit of top rate promo can do! For instance this from Martin Bennett:
"Blistering session yesterday at The Pear Tree, Welwyn Garden City, organised by Smiffy. A very generous reception given to the band by some very enthusiastic supporters and a gang of onetime neighbours and good friends of mine from when I was living in Essendon, Herts, 40 odd years ago.
"Peter Butler (Jazzers) was in there in the front with a brand new machine that transfers sound and film directly to YouTube. He was delighted with his new toy and as far as I could understand, he has put a lot of the concert on YouTube. I'll be more exact once I have heard from him. This magical device of his is about the size of the bottom half of a half-pint glass. It could be dangerous!"
Blistering Drum Solo
With that, Martin, you've shot The Old Green River's performance of "The Algiers Strut" to the top of the "Jazz&Jazz YouTube Parade" at the same time as giving Smiffy's Peartree Jazz Club in Welwyn Garden City a well deserved plug. Also because it features Stuart Smith's blistering drum solo.
I've videoed a selection of YouTubes of equally powerful performances by various bands using my "magical half pint glass" but they will follow later as they take time to process. However, a bit more praise like Martin's and others too could jump the queue!
By the way, please excuse the step ladder behind the set. I have to have a means of escape should the musicians cut up rough!
Please follow and like us: