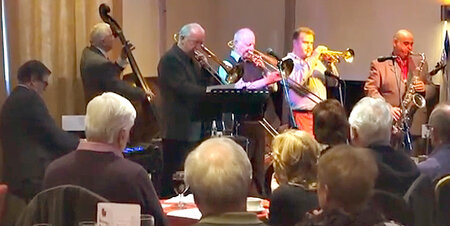 Tad Newton promised "Melliflous Festive Frolics" at his Jazz Friends' Christmas Jazz Party at The Walnut, Blisworth, on Sunday, 22nd December, and he wasn't kidding! It was a fantastical lunch time session and The Ellington Room was packed wall to wall with fans.
The media give short shrift to jazz, convinced it's a lost cause. Tad's Christmas Gig showed that they are well off beam. With guest stars, vocalist Denise Gordon, trombonist Roy Williams and Zoltan Sagi on saxophone, Tad (trombone) and his band – Alan Haughton, piano; Gary Wood, trumpet/vocals; Ronnie Fenn, percussion; and Tomas Pederson, double bass – couldn't fail
to do so.
Tad Newton never fails to live up to his motto, "LIVE JAZZ … USE IT OR LOSE IT!" and in that he echoes the aims and goals of Jazz&Jazz.
So here I'm posting photos I took and YouTubes I filmed amongst the packed, exuberant fans at that glorious Xmas jazz session at The Walnut which will linger long in my mind.
In my next Jazz&Jazz post to follow shortly I will announce Tad's Programme to carry The Jazz Friends' forward in 2014 and to share with him our joint aim of Keeping Jazz Live and Alive!
Jazz&Jazz Jazz Friends YouTubes
Festive Frollicks at Tad Newton's Christmas Jazz Party: http://youtu.be/gslznG-75XU
Struttin' With Some BBQ: http://youtu.be/3Ck8TSOyBY8
Denise Gordon Starring at Tad Newton's Festive Frolics: http://youtu.be/TAYBwLVyBzo
Zoltan Sagi "Skylark": http://youtu.be/G_kweatnuP8
Gary Wood Centre Stage: http://youtu.be/X6Vy4Nnfv80
"One Two, Buckle My Shoe": http://youtu.be/CGVfkkmBlno
Photos & YouTubes © Peter M Butler, Jazz&Jazz
Please follow and like us: