Pathos, Pity and Passion swept through The 100 Club on a recent bleak December day, leaving fans wondering what tomorrow will bring for touring and visiting jazz bands in London. It was the end of a long era of Thursday lunchtime jazz organised by Kay and Tony Leppard. So I've left it to Tony to sum up this historic occasion in, as usual, his modest and unassuming manner. 
Tony and Kay, rather than feeling gutted, fans should be so grateful to you both for all you have done for jazz in Central London for so many years. After all, as Kay recently put it, the closing event certainly "brought them out of the woodwork".
So over to Tony:
End-Of-The-Line At The 100 Club!
More than 200 people crammed into The 100 Club on 12 December for the final Shooting Star
Lunchtime Jazz session, and what a treat was in store for them.
The band – Ged Hone, Adrian Cox, Mike Pointon, Ray Smith, Tony Pitt, Ben Martyn and Emile Martyn – was "on fire" from the first number and served up two hours of wonderful
New Orleans music.
Laced with a couple of ragtime pieces from Ray Smith, a cameo appearance by Alan Robinson for a clarinet duet with Adrian Cox on 'Over the Waves', a lovely Ged Hone/Ray Smith duet on 'Davenport Blues' and a few words from long-time club promoter Roger Horton, together with
Mike Pointon's interesting and amusing anecdotes between numbers, this was a magical experience that we shall all savour for many years to come.
Tony Leppard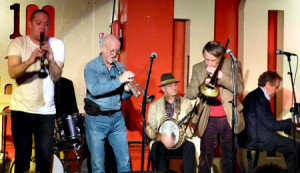 So, Tony, I suppose that now the 100 Club fans will, in the words of the song, just have to "Sit around and wonder what tomorrow will bring", hoping that someone may even take up the cudgels!
But I cannot let such an even pass without a good selection of photographs for posterity. My good friend and jazz compatriot Lawrence Cumming took the superb stills of the band and the fans plus one of me for pot luck. Because thoughout the session I flitted here and there taking movies of the band and posting them on YouTube.
But you'll have to forgive me for the somewhat dubious quality because, as I explain on YouTube, The 100 Club, and especially a crowded 100 Club, is not the best place for filming, given the packed seating, the jostling fans and the position of the two pillars which split the stage into three visual sections. So there was a degree of dodging, ducking and diving which shows up on the videos – yet accompanied by some great close ups. Come what may, here they are:
Joyous Jazz at the Last Ever 100 Club Thursday Midday Gig:  http://youtu.be/rTAK0DgZVn0
"Sweet Lorraine":   http://youtu.be/XMQzqezLX2k
"Postman's Lament":  http://youtu.be/3CHmqrRXPuc
"The Glory of Love":  http://youtu.be/b3w6BFjFUZc
Dancing in The 100 Club:  http://youtu.be/WvV6sE7ngyQ
A Tribute to George Buck:  http://youtu.be/HMckaOUuPxU

And Lawrence's brilliant photographs:
 (Photos courtesy of Lawrence Cumming © Peter M Butler, Jazz&Jazz)
Please follow and like us: