I received a telephone call last Monday, 4th November, informing me that Penn had been involved in a fatal accident. I emailed Pete Lay who confirmed the tragic news. I didn't feel it was my place to prematurely report the news on Jazz&Jazz but now that Fred Burnett has included it on Jazz North West I want to pay my own personal tribute to Penn.
But first here is how Jazz North West reported the tragedy:
"04/11/13 – I've received news from several sources now that Pen Pengelly, part of "Jimbo & Penn" who managed the Stage Equipment for many New Orleans jazz weekends, was involved in a fatal accident on the 28th October.  "I understand that Jean Pengelly survived with broken ribs and is now in Taunton Hospital", Tony Talk told me, "He featured mostly on the New Orleans Jazz weekends organised by John Long and the KC Trust at Sandbay/Hemsby – as was. Jimbo is the "Grand Marshal" for the Brolly Parades; together, they did the Stage changes & Audio etc. He was at Alvaston Hall ……but those guys tend to be invisible"!  Dennis Whitehead said, "He also played the e flat clarinet  sitting in with many bands everywhere? he was very well loved by all in the jazz world, a fierce Cornishman who did so much in the jazz scene. He would be very well known by any of your readers who go to Upton, Hemsby, Bude, or many other venues. He will be missed  as a true friend of jazz and above all a person who we are proud to say we knew".  "I am afraid it is true – a great guy and will be sorely missed" – Pete Lay."
My Personal Tribute to Penn
At the Hemsby Autumn Jazz Parade this year, Penn took total control of stage management, lighting and sound in the absence of Grand Marshall Jimbo who was unwell. As always, I chatted to Penn – everyone did. He was on top form and totally unflappable.
So I want to pay my own tribute to Penn by posting here the photo I took of him at the festival playing his beloved e flat clarinet with Brian Carrick's Algiers Stompers. And I want to dedicate the photo to Jean, wishing her comfort in her recovery.
Peter Mark Butler
Jazz&Jazz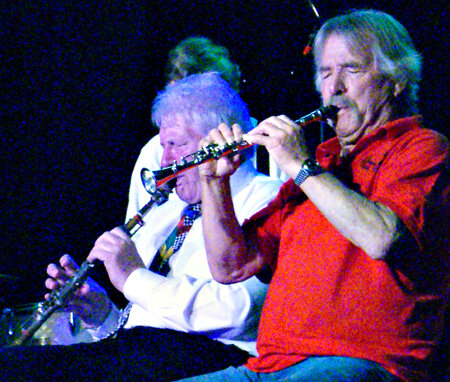 Since posting this Fred Burnett has updated Jazz North West as follows:
08/11/13 – In the news item on Penn Pengelly on 4th Nov, I quoted from an email that Penn "was involved in a fatal accident yesterday", but in fact the email arrived with me on the 29th October.  I would not normally report tragedies like this immediately, except at the request of family, so I waited five days before announcing it on the site.  My apologies to those who may have thought I was too quick off the mark.
Please follow and like us: