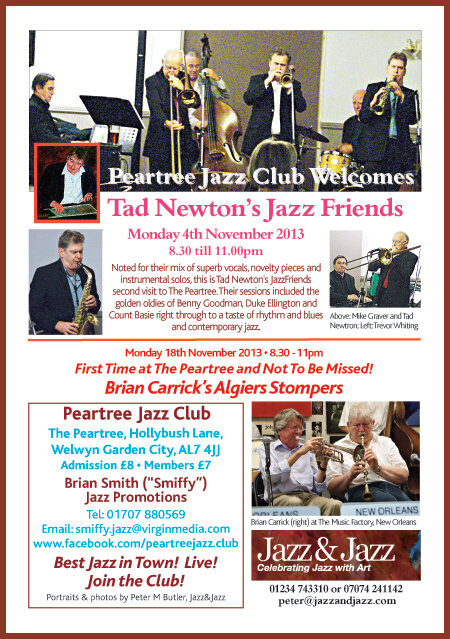 Tad Newton's Jazz Friends
Monday 4th November 2013
8.30 till 11.00pm
Noted for their mix of superb vocals, novelty pieces and instrumental solos, this is Tad Newton's JazzFriends second visit to The Peartree. Their sessions include the golden oldies of Benny Goodman, Duke Ellington and Count Basie right through to a taste of rhythm and blues and contemporary jazz.
*** *** ***

 
First Time at The Peartree and Not To Be Missed!
Brian Carrick's Algiers Stompers!
Monday 18th November 2013 • 8.30 – 11pm
Peartree Jazz Club
The Peartree
Hollybush Lane
Welwyn Garden City, AL7 4JJ
Admission £8 • Members £7
Brian Smith ("Smiffy") Jazz Promotions
Tel: 01707 880569 • Email: [email protected]
www.facebook.com/peartreejazz.club
Best Jazz in Town! Live! Join the Club!
Please follow and like us: