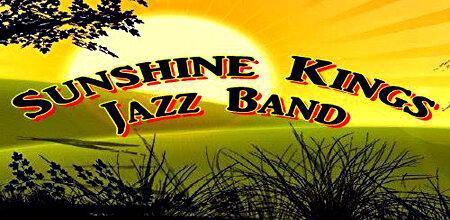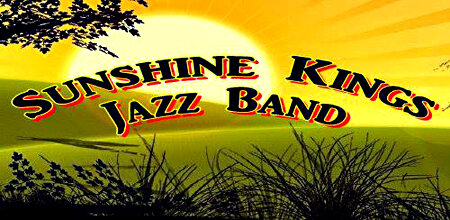 I first saw Graham Hughes at a Fallen Heroes gig in The Barn, Throwley, Kent, back in 2009, and was immediately struck by his vivaciousness on trombone and vocals. Then in March, 2010, good fortune took me to The 100 Club when Graham was trombonist with Barry Martyn and The Young Bloods – an incredibly memorable occasion.
Ray Crick featured Graham and his Sunshine Kings Jazz Band in October's Just Jazz magazine: "Graham was a child of the 70s who grew up in Highgate, getting a grounding in music in the local church choir, then other choirs. At Highgate School he fancied playing the trumpet but "was given a trombone and told to learn that."
"When it's good it's really good!"
Ray's profile covers Graham's exposure to modern jazz whilst at Cambridge University, his introduction to traditional jazz with Allen Beechey's Jazz Band, the sea change in his intended career in engineering, his one year jazz course at London's Trinity College of Music, and his life between then and now. "It's not all fun by any means … but when it's good it's really good and I live for those moments."
Fast forward to 17th October this year when Graham and I crossed paths again at The 100 Club. We were both there for the same reason, to witness The Rich Bennett Band take London's mecca of jazz by storm. And in Graham's case, to touch base with Rich, Russ, Dorine & Co, kindred spirits in promoting the purity of jazz and a new generation of UK based New Orleans Revivalist Jazz Bands.
So that's the key reason for this Jazz&Jazz post, to feature Graham and his Sunshine Kings Jazz Band of "effervescent young jazzmen" – trumpeter Peter Horsfall, clarinetist Duncan Hemstock, Pianist Francesco Marco, guitarist Lawrence Cornes, sousaphone player Paul Tkachenko, drummer Alessandro "Bubu" Cassini – and of course, Band Leader Graham on trombone.
One of the most exuberant bands in the country
As Ray Crick's Just Jazz article states: "Still in his thirties, Graham is now among the most accomplished of English trombonists, yet his influence is even greater as an organising catalyst, spreading jazz sunshine through the various bands that he runs. The Sunshine Kings is his traditional New Orleans outfit, which has matured from a rough 'n' ready start in 2008 to become one of the most entertaining and exuberant bands in the country."
Thank you, Graham, for permitting me to post this feature on yourself and The Sunshine Kings Jazz Band on Jazz&Jazz. Long may you flourish!
If you are on Facebook, click here to visit The Sunshine Kings Jazz Band site.
Peter Mark Butler
Editor & Proprietor of Jazz&Jazz
Please follow and like us: