I recently featured on my Facebook Jazzers Group this stunning photo of Dorine de Wit, eyes wide open and fully focused on Richard Bennett after Tony Leppard announced their engagement. They'll be wed next year. Huge congratulations, Dorine and Rich.
The occasion was a phenomenal Rich Bennett Band gig at The 100 Club on Thursday, 17th October, and it's high time to feature photos of the event on Jazz&Jazz.
Rich, his merry jazz men and the beautiful Dorine travelled up from the West County that morning and despite irritating traffic delays, arrived in Oxford Street full of the beans for which they have become renowned. Hardy fans didn't know what had hit them but revelled in three hours of solid New Orleans Jazz performed with the zip and gusto of bygone eras at The 100 Club.
This was the irrepressible Bennett Brothers first venture to London's historic seat of jazz but sadly it seems it will be their last, because as of this December these Thursday lunchtime jazz sessions will come to an untimely end.
But we are thrilled, Rich, Russ and gang, that, representing the current flush of a new generation of revivalist jazz bands, you came, you saw and you conquered in the nick of time.
Let the photos tell the story.
Photos © Peter M Butler, Jazz&Jazz, and courtesy of Laurence Cumming
FOOTNOTE:
Of all musicians I find the drummer the most difficult to photograph. Especially jazz drummers. And more especially phenomenal jazz drummers like the great Colin Bowden with their full frontal style! The Bennett Band's drummer, Julyan Adridge – fondly known as Baby Jools and in his early 20s –  is of the same ilk as Colin and, in time, threatens to reach his stature with those wild, flaying, but oh so accurate sticks. I have featured two of my photos of Jools above but here are two more capturing his blurred sticks at warp speed.
Peter M Butler
Owner and Editor of Jazz&Jazz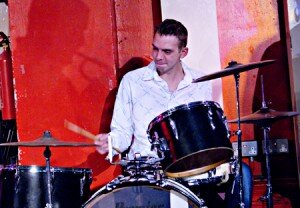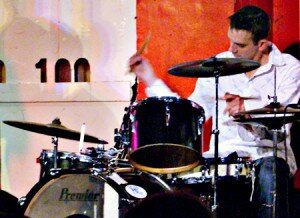 Yes, jazz has a future!
Please follow and like us: