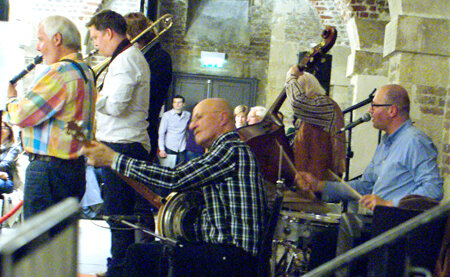 Monday, 29th May, friends from Canada paid me a surprise visit. I had planned to get to
The Cafe in The Crypt, Trafalgar Square, for TJ Johnson's monthly session that evening. But I was pushed for time. Then I remembered Trefor Williams had promised to make a reservation for me in case I was late.
Echoes of Preservation Hall
So I set off and as fortune would have it, due to a train delay, I got there in good time. And was I glad! Sitting opposite me were a couple from Sacramento, California. They had been on a River Cruise on the Continent and had decided to take in a London jazz session before returning home. By the end of the evening they were applauding furiously and told me it took them back to an evening they spent at Preservation Hall, New Orleans, last year.
Such is the impact TJ has on jazz fans of all ages. And such is the magical atmosphere The Crypt lends to jazz.
Popular with 'young trendies' and older fans alike
In March this year TJ starred at a Royal Festival Hall's Ignite Brunch. He was introduced as "One of the UK's most charismatic jazz and blues singers … backed by his group of top London-based musicians. TJ plays an extraordinary blend of music that transcends the boundaries of jazz, blues, soul, country and gospel and is influenced by some of the greats such as Ray Charles, Louis Armstrong and Johnny Cash."
This from TJ's own blog: "TJ's style and mix of music seems to be very popular with the young trendy in crowd and older jazz and blues fans alike." Maybe not so self-effacing but as the mix of fans at The Crypt last week demonstrated, it stands up to scrutiny.
Peter M Butler
Editor and Owner, Jazz&Jazz 
Photos © Peter M Butler, Jazz&Jazz
Please follow and like us: