Kevin Ray Clark and I have just become Facebook friends and he has joined my Facebook Jazzers Group. Kevin is The Dukes of Dixieland Band Leader so immediately memories of a wonderful visit to New Orleans for the 2010 French Quarter Festival came flooding back.
The countless photographs I took included shots of The Dukes of Dixieland playing aboard The Natchez and entertaining fans in Jackson Square.
Back then I'm pretty sure Kevin was taking a break from The Dukes and playing trumpet in Toronto, Canada. Nevertheless I want to share some of the photographs I took, and Kevin, don't even think about deserting ship again because I hope to get back to New Orleans before too long for more photos!
BUT FIRST, HOT NEWS FROM NEW ORLEANS!

Kevin emailed to thank Jazz&Jazz for keeping the torch burning for traditional jazz and the great NOLA  photos! Thanks, Kevin, one of the key aims of Jazz&Jazz is to maintain and strengthen bonds with the home of jazz. John Shoup, who has managed The DUKES of Dixieland for 40 years, emailed today (Saturday, 4th May, 2013) the following photos of The DUKES live on stage at The New Orleans Jazz Fest. John added "we do like to emphasise the DUKES of Dixieland"!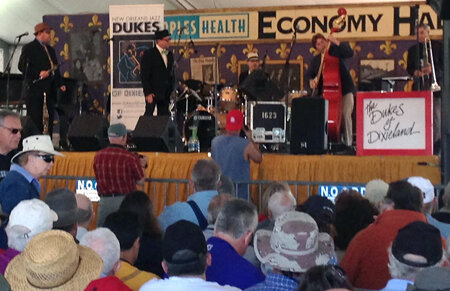 And now, back to Jazz&Jazz photos of The DUKES back in 2010:
http://www.dukesofdixieland.com
http://kevinclarkentertainment.com
http://www.steamboatnatchez.com
Photos © Peter M Butler, Jazz&Jazz
Please follow and like us: