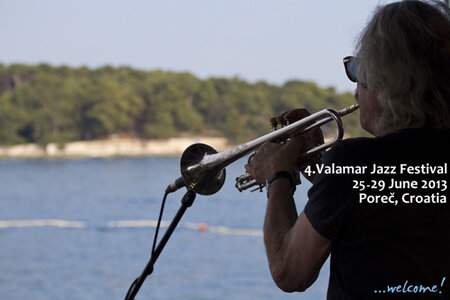 Since we posted the release below, Ivana Sansević has updated Jazz&Jazz with the full
Festival Programme for Valamar. 
Be sure to browse through the entire Valamar Festival Site which includes booking and contact information, press accreditation and an extensive Photo Gallery.
Dear colleagues,
For the fourth year in a row Valamar Jazz Festival brings together world-renowned jazzers in Poreč at the end of June!
Between June 25 and 29, the Festival will take place at several town landmarks under the direction of the unique and acclaimed jazz musician Tamara Obrovac. Valamar Jazz Festival is an opportunity to spend an ideal musical summer vacation, as it gives you the world's best jazz on one of the most desired spots on earth for vacationers – the town of Poreč. Our five-day program includes performances by extraordinary guests from the world of jazz.
Stages will be set in the authentic ambiance of the Istrian historical town; the main venue is the Island of St. Nicholas (Otok Sv. Nikole), just across the port, while two concerts will be performed in the atrium of the Euphrasian Basilica, one of the most beautiful early Byzantine architectural monuments of the Mediterranean.
Attached you will find detailed information.
If you need any other information, do not hesitate to contact us.
Best regards,
Ivana Sansević
Valamar Jazz Promotion
Mob: +385 91 528 7605
E-mail: promotion@valamarjazz.com
www.valamarjazz.com
Ivana enclosed the following press release along with photos of jazz stars Buster Williams and Billy Childs: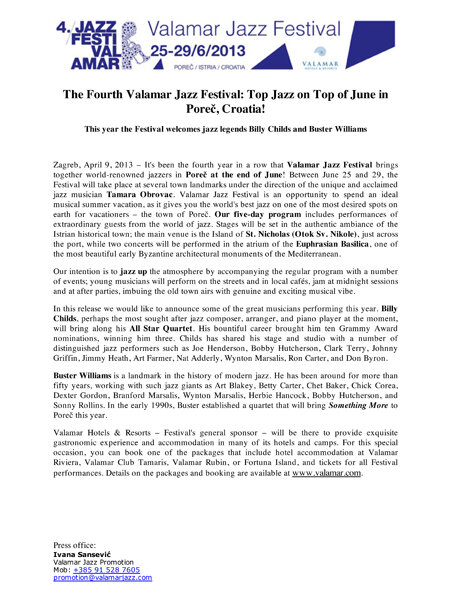 Thank you, Ivana, for sharing news about the 4th Valamar Festival with Jazz&Jazz. We wish you every success. Jazzers, we'd love to hear from any of you vacating in Croatia for the Festival.
Please follow and like us: