Facebook can be very ephemeral. Subjects raised one day are soon downgraded by the welter of information flooding in not just by the minute but by the second. So to keep issues in the public eye, or rather in Jazzers' eyes, from time to time I post issues and debates on this site and then recycle them periodically on Facebook.
This is one of those issues.
I got back into jazz a few years ago. I say back into, because 'in the beginning' I got into jazz with a group of chums following the trend. Then in 2008 my oldest chum said he and his wife had got back into jazz and that my wife and I should join them at The Hemsby Autumn Jazz Parade. So we did and this time I began to take jazz seriously and came to realise its tragic decline.
Then in 2009 Ginny won the Ken Collyer Trust Prize Draw for a fantastic trip to New Orleans for the 2010 French Quarter Festival. By that time I had made numerous contacts through my jazz portraits and now there was no going back.
So I launched www.jazzandjazz.com, then joined Facebook and launched my Facebook Jazzers Group – all aimed at raising the profile of jazz for jazz bands, musicians and fans. Numerous debates ensued on Jazzers about the plight of jazz, ageing fans, weary jazz clubs AND the lack of younger bands, musicians and fans. Not only that but the decline of jazz in New Orleans itself.
So to the heart of the matter! There are younger bands out there – in the USA, UK and around the world. And right now, to demonstrate what this article is all about I want to feature just one of these bands, Tuba Skinny, recently introduced to me by Jazzers Group Member Edward Lloyd-Hughes.
Their website, http://tubaskinny.bandcamp.com, says it all and is music to the ears:
"Formed in in 2009, Tuba Skinny has steadily evolved from a loose collection of street musicians into a solid ensemble dedicated to bringing the traditional New Orleans sound to audiences around the world. Drawing on a wide range of musical influences—from spirituals to Depression-era blues, from ragtime to traditional jazz—their sound evokes the rich musical heritage of their New Orleans home. The band has gained a loyal following through their distinctive sound, their commitment to reviving long-lost songs, and their barnstorming live performances."
You can listen to their jazz on youtube and here are just two links:
Live set, ABC National Radio, Sydney, Australia: http://youtu.be/ffXQ6qH3gwU
Tuba Skinny with Erika Lewis on vocals performing at Louisiana Busker Fest in Abita Springs, La 22.4.2013: http://youtu.be/hTainjvzeoI
So just a few stills courtesy of ABC, Australia. The names of the musicians are announced during the video.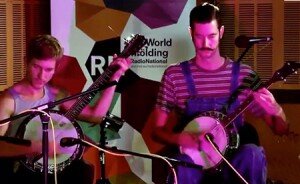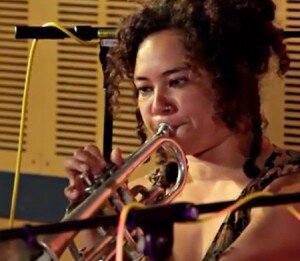 Tuba Skinny is just one of a number of new US bands who, along with UK bands and musicians such as The Bennett Brothers, The Martin Brothers, The Adrian Cox Quartet, Dom Pipkin & The Ikos, The Brownfield Byrne Quintet, Jonny Boston and Amy Roberts bely fears that, as one punter put it on Linkedin "jazz music is going to die soon".
There is no lack of talented bands and musicians.

But they don't follow the traditional marketing methods. They promote themselves differently, using the internet and modern communications to appeal to younger fans. Adrian Cox pointed out to me recently that 90% of his Quartet's fans are age group 18 to 30.
Reading Sammy Rimington's book "A Life in Pictures" it strikes me that back in his early days things were much the same as today. He had to make his own way on the jazz scene along with other up and coming bands. What's more, back then they had to push promotion and win gigs for themselves without the aid of the internet. Neither was there a Jazz Guide in those days.
I've rerun a series of Jazzers Debates on these issues on Jazz&Jazz, under: https://www.jazzandjazz.com/category/jazz-world-interviews/ . I've also written a feature on the site "Analysing The Jazz Scene – Past, Present and Future".
So older bands, clubs and fans shouldn't bemoan the plight of jazz. We should lift our heads above the parapet to see whats happening out there and somehow get in on the act with a new lease of jazz life. We shouldn't just fade away. We should re-involve ourselves and join in with and support a whole new generation of Jazzers, then they might be more inclined to join in with us.
Long Live New Orleans Revivalist Jazz!
Please follow and like us: