Rocking and Stomping along The Old Green River! Unravel the riddle to discover the three great bands appearing at The Peartree Jazz Club, Welwyn Garden City, in November, December and January.
Then book the dates in your diary: Mondays, 19th November, 17th December and 21st January.
Here is the full programme. Great jazz, great musicians and great bands to lift fans' spirits and banish the winter blues.
In November we welcome back Peartree favourites Dave Rance's Rockin' Chair Band. Watch our for Brian Webb's 'Me and Jane in a Plane'! In December Dennis Vick's Fenny Stompers are back for another of their Christmas Spectaculars. Guesting with them and making a very welcome first appearance at The Peartree will be Trefor Williams, bassist supreme who has starred as a mainstay with Phil Mason, Max Collie and Chris Barber and tours regularly with Sammy Rimington's International Jazz Band.
Then to truly blast away the January gloom Peartree fans can look forward to "one of the most exciting bands I've heard … their music could be described as New Orleans meets RnB … few bands come closer to the true spirit of New Orleans" (Peter Kings, p.e.k. Sound). Indeed, who wouldn't brave the January elements for a Peartree session with Martin Bennett's Old Green River Band!
So don't miss out on any of these jazz spectaculars at The Peartree. Just turn up each month, sit back, raise a glass, even dance a little and enjoy!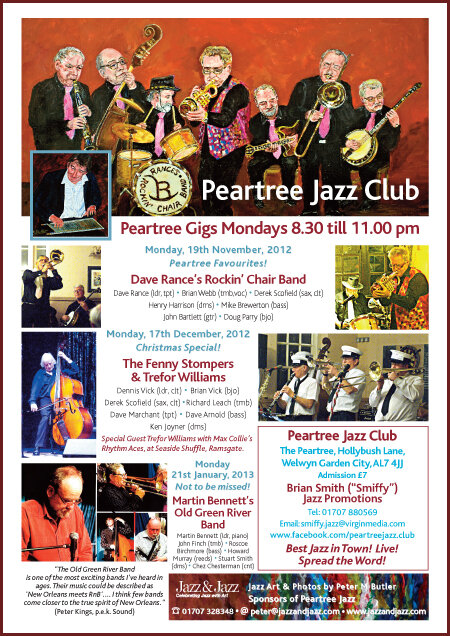 Masthead illustration taken from commissioned Jazz&Jazz portrait by Peter Butler of
Dave Rance's Rockin' Chair Band.
Please follow and like us: