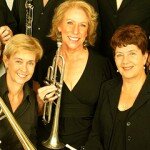 Jazz&Jazz recently introduced New Orleans Band
Some Like it Hot to jazz fans with information about their upcoming gigs. Now its time to feature their brand new CD. "Joy of Dixieland".
Introducing the CD the band wrote: "You have heard of the Joy of Cooking and the Joy of Sex, now we have the Joy of Dixieland!
Thanks to Dean Shapiro for the great review!"
Some Like It Hot

Joy of Dixieland
Independent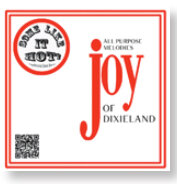 Like the movie of the same name, the Some Like It Hot band plays what was once known as "hot music" in the old Dixieland style that originated right here in New Orleans more than a century ago. On this, their fi rst full-length CD, recorded live at Buffa's Lounge, they perform traditional lively, toe-tapping songs that just make you feel good when you hear them, which is precisely their intent. Kaye Caldwell, the group's founder, leads the way with finely polished trumpet and vocal work, and the rest of the band members also shine on their respective instruments: Eric Shuman (clarinet), Ron Kennedy (banjo and vocals), Janice Medlock (trombone and piano), "Lil Josephine" (bass) and Nita Hemeter (drums). The 15 tracks are largely familiar standards like "St. Louis Blues," "Avalon," "Bye Bye Blackbird" and others but, despite their familiarity, the group succeeds in stamping each one with its own styling and arrangement. Their treatment of "St. James Infirmary" is in a much faster tempo than the original and every other version recorded since then but, it actually works well, especially with a few new lyrics added by the band. And, not being a big Piaf fan, I had some trepidation about hearing "La Vie en Rose" but Medlock's artistry on the 88's and Shuman's melodic clarinet work made this track stand out. The one shortcoming on this record is a problem I'm finding with a number of locally recorded albums lately: the bass track is barely audible, even on the solos. Recording engineers really need to be attuned to this when doing their mic-ing or mixing or both. Otherwise it's a great first outing for a group that's doing its part to keep the old New Orleans sound alive. Think about gifting it as a stocking stuffer this Holiday Season!
Dean M. Shapiro
To order a copy of the CD or contact the band, email Nita Hemeter: [email protected]
Please follow and like us: