Newcomers to The Peartree Jazz Club in Welwyn Garden City, Tad Newton's Jazz Friends thrilled the Monday night fans on 15th October with their swinging repertoire of 20's, 30's, 40's and 50's jazz sounds. Their sessions included the golden oldies of Benny Goodman, Duke Ellington and Count Basie right through to a taste of rhythm and blues and contemporary jazz.
The Jazz Friends are noted for their mix of superb vocals, novelty pieces and instrumental solos, including numbers featuring Trevor Whiting on reeds. Given their international reputation and regular appearances at top venues and jazz festivals, Peartree fans were privileged to to be entertained by such a prestigious band.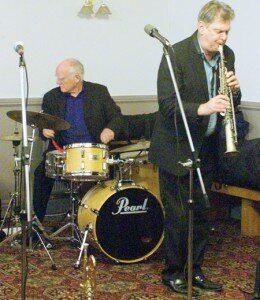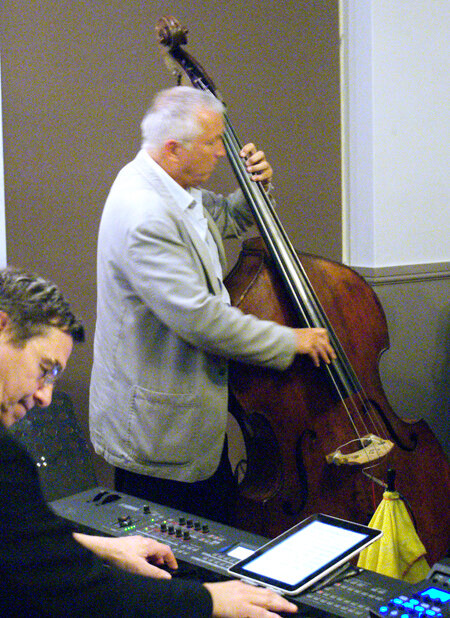 Peartree Promoter, Brian Smith, more popularly known to fans as Smiffy, introduced Mason, his son, during the raffle. Mason is now assisting in promoting the club and has set up a Peartree facebook page. What better than to begin with a promo photograph of Mason with the Jazz Friends. After introducing Mason, Smiffy declared, "Well, the wife tells me he's my son!" Typical of his wry humour that the fans love.
(Photos © Peter M Butler, Jazz&Jazz)

TAD NEWTON'S JAZZFRIENDS
"NOVEMBER NUGGETS!"
Nov 17 3pm: Teignmouth Jazz Festival, Carlton Theatre, Teignmouth, Devon
Nov 22 8pm: Castle Theatre, Wellingborough, NN8 1XA  Tel. 01933 270007 for tickets
Nov 23 12.30pm: The Spice of Life, Cambridge Circus, London. A debut for Tad Newton's Jazzfriends at one of London's top jazz venues. Why not have a day out in London and come along and support us? Admission on door £6 … be early!
Nov 24 8pm: Pavenham Village Hall, Beds. A special jazz and dine evening in an idyllic setting. Tel  01234823821 for tickets and information.
Call:  01604 858549
www.tadnewtonsjazzfriends.com 
Please follow and like us: