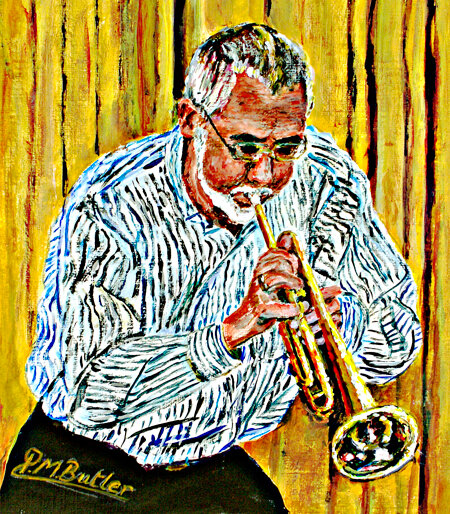 The ever popular Tony O'Sullivan, silhouetted by the stage lighting, in an intense and dazzling trumpet solo with the New Orleans Po' Boys at the 2010 Autumn Jazz Parade in Hemsby, Norfolk.
Spotlight on the Trumpet
Trumpet ablaze
Fired by the spot
A solo to amaze
Yet fans like it hot!
Jazz&Jazz Copyright © 2010 Peter M Butler. All rights reserved.
I have fun writing poems to accompany each fine art print of my jazz paintings and for Tony, this simple stanza sums up his virtuosity on trumpet.
Fine Art Giclée Prints of this portrait are available, with or without my descriptive poem. Simply email: [email protected]
Please follow and like us: